Fruitnet is the fresh produce industry's global source of news, insight and analysis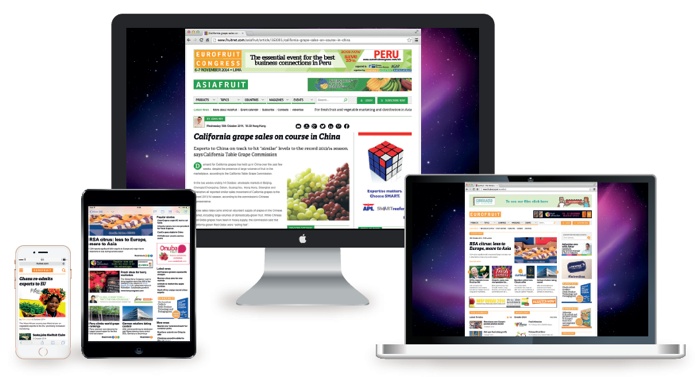 Fruitnet keeps you posted
Fruitnet brings together several of the fresh produce industry's leading publications to provide a single, reliable source of news, insight and analysis. Fruitnet is the only news provider that can deliver informed and high-profile coverage of the entire global fresh produce business, reporting on developments in all major markets via an international network of reporters. The coverage is comprehensive, but not congested; Fruitnet's editors select only the most relevant and important stories for publication.
Fruitnet is a platform for growth
Advertising on Fruitnet puts your company in front of tens of thousands of key decision-makers in the global fresh produce business. For more details of banner options and prices, please download the Fruitnet media pack.
Fruitnet delivers news daily
Fruitnet Daily News is a free, premium-quality news service sent via email to tens of thousands of fresh produce industry professionals worldwide every day. The service includes carefully selected stories, interviews and features produced by the editors and journalists behind Eurofruit, Asiafruit and Americafruit, published by Market Intelligence.
Fruitnet Daily News launches in late October 2014
To receive Fruitnet Daily News, enter your email address in the box at the top of the right-hand column on this page, or contact Michelle Walsh via [email protected] or by calling +44 20 7501 0311.
Fruitnet live events
Fruitnet publications also organise fresh produce conference events all over the world – the best way to explore commercial opportunities and make new business contacts. The group's annual events now include Asiafruit Congress, Eurofruit Business Forum, Eurofruit Congress Southern Hemisphere, Global Berry Congress, Asiafruit Market Insight, Fresh Produce India and European Vegetable Strategies.
Fruitnet Media International Group
The Fruitnet Media International Group comprises Eurofruit, Asiafruit, Americafruit, Fresh Produce Journal, Produce Plus and Germany's leading fresh produce trade publication Fruchthandel Magazine.
For more information, please contact: