Californian citrus packer, Suntreat, have launched a new 'craft' mandarin brand.
Suki mandarins will be available through May, and are a carefully handled premium version of the company's Golden Nugget mandarins.
"Because we handle Sukis with the gentle care that you would provide for something as delicate as stonefruit, the flavor and shelf-life of the product surpasses anything else you see on the market," said Brett Burdsal, director of marketing at Suntreat.
The mandarins are left to ripen longer on the tree, then carefully placed in smaller field totes and packed by hand for a gentler process.
"Last year, when we started handling the Sukis differently, we immediately noticed we were yielding a better product with greater taste and a longer shelf-life," explained Daniel Kass, vice president of sales and business development at AC Foods.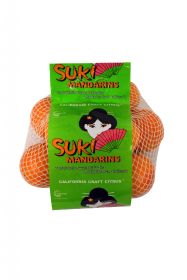 The bright packaging and Japanese-inspired design tie in to the brand's naming 'Suki', which is a Japanese word that loosely translates to 'love'.
"We're really excited about it to be able to show off the new look for Suki. We think the name is going to ring true, the box is going to pop, and the taste is going to be second only to our Sumo Citrus," said Burdsal.
The mandarins will be released to retailers early next week and mark the end of the Californian mandarin season.