Traditional lion dancers brought a splash of colour and local flavour to the launch of Chile's new cherry consumer campaign in China on Tuesday.
The campaign was unveiled during the 2017 Asia Fruit Congress in Hong Kong which takes place ahead of Asia Fruit Logistica, the region's biggest fresh produce trade fair.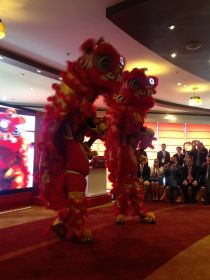 Running in 48 cities and covering a wide range of activities spanning the major distribution channels, the US$5m campaign is Chile's largest generic promotional campaign ever in China.
It will run for the duration of the Chilean season and feature point-of-sale promotions, social media and e-commerce activities, billboard advertising at major metro stations and other public spaces, pop-up stores and various co-branding elements.
"We are looking to build on last year's campaign, fine-tuning certain elements in order to achieve maximum impact," said Charif Christian Carvajal, Asoex's marketing manager for Europe and Asia.
During the launch, Eduardo Frei Ruiz-Tagle, ex President of Chile and currently the country's ambassador in Asia, underscored Chile's pioneering role in China. The Andean nation leads the way in fruit exports to China and was the first Latin American country to sign a free trade agreement with the Asian giant.
"It is vital that we now increase our penetration of the Chinese market in order to maintain our leadership over the coming years," Frei said.
China accounted for 82 per cent of Chile's 95,000-tonne shipment volume in 2016/17, and with exports forecast to reach 160,000 tonnes in 2020, raising consumer demand is a top priority for the industry.
Ronald Bown praised the efforts of producers, exporters, the Chilean government, food safety authorities and importers to deliver high quality, safe cherries to Chinese consumers, noting that the industry would not function without such close collaboration between the different parties.
According to Frey, the popularity of Chilean cherries among Chinese consumers is down to their quality and attractive appearance. Speaking exclusively to Fruitnet, he said no other country was able to reach the market with such a big volume of cherries in peak condition in time for the Chinese New Year.
Chile is also looking to make headway in other Asian markets. South Korea, which opened in January 2016, is expected to show strong growth in the coming years, while elsewhere, Brazil is also emerging as a promising market.