Club varieties are commonplace in the European apple business nowadays, and in many cases those protected, branded products have been successful in securing a profitable slice of what generally tends to be a rather commoditised category. For berries, meanwhile, steady growth in European sales – especially in the northern part of the continent – has meant that the need to segment beyond berry type has been far less pronouced. This could be changing, however, with the arrival of Europe's first club berry variety.
Since 2004, the Candonga brand has been used to market Italian-grown Sabrosa, a trademarked variety first developed by Spanish group Planasa and now grown in a number of Mediterranean countries. More recently, growers in the Metapontino area of Italy's southern region Basilicata formed an alliance to market their own crop under a dedicated brand, Candonga Fragola Top Quality. The club now comprises 15 member growers producing 11,000 tonnes per year across a combined area of 250ha.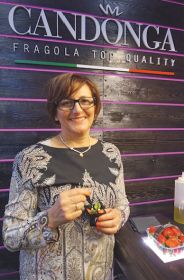 According to Carmela Suriano (pictured left), general manager of berry breeding firm Planitalia and founder of the Candonga Club, bringing together the variety's best producers and marketing their fruit actively made perfect sense. "We felt that the strawberry market wasn't properly segmented and so didn't adequately value certain varieties, even though they were distinct in terms of their organoleptic quality," she explains. "Candonga offers the highest quality, incredibly long shelf-life, and sugar level of around 11-12° Brix compared with the normal level of around 7° Brix. We've always had the quality but we needed to communicate it to the market."
With a dedicated internet site and high-profile appearances at trade events like Fruit Logistica putting growers in direct contact with the market, the club's strategy is to reach people who want superior quality strawberries and who are willing to pay a little bit extra for a different product. "This is the first example of a marketing organisation in the strawberry sector. It shows it can be done for berries," Suriano adds. "What's more, it has to be done."
Expansion is very much on the cards for Candonga. "We want to sell the same high-quality product into all the countries of Europe, because there is growing demand for Candonga in Europe – for example in Germany, the UK and other markets." Could it be grown outside of Basilicata and marketed under the same brand? It's a possibility, she says. "Candonga needs a hot growing environment, but yes I believe the model could be a winning one for strawberry producers because at the moment as a sector we run the risk of disappointing consumers. The strawberry offer is very often poor quality and now it's time to do something to change that."

Carmela Suriano is due to speak at this year's Global Berry Congress, which takes place on 23-24 March in Rotterdam. Visit www.berrycongress.com for more details and to register.