Fresh produce marketer SanLucar has teamed up with one of Twentieth Century Fox's most popular movie characters to promote fruit and vegetable consumption among children.
The Spanish supplier has announced that Kung Fu Panda has become its latest brand ambassador and will appear on berry and banana packaging during the coming weeks, as the karate-kicking bear's latest film, Kung Fu Panda 3, is screened across Europe.
The promotion, which also features the character on posters and brochures in German and Austrian retailers, is due to run until 18 April.
As part of the campaign, SanLucar will raffle a holiday trip to Edinburgh. The winners will spend two nights at the Scottish capital during which they can visit Europe's biggest panda bears at Edinburgh Zoo.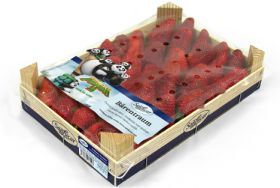 SanLucar said it is committed to promoting healthy nutrition among children by integrating fruits and vegetables in their daily diets and helping parents to teach their offspring how to achieve a healthy and balanced diet in an entertaining and accessible way.
"We all know how difficult getting your children to eat fruits and vegetables can be. Sometimes we, as parents, are forced to mix fruits and veggies with other foods to make sure our youngsters get all the essential vitamins and nutrients for a healthy development and growth, " said CEO Stephan Rötzer.
"With this in mind, at SanLucar we use children's film characters precisely because we are aware of the influence that advertisement can have on consumer habits. What we would like to do is to show children that fruits are a delicious treat they can enjoy at any time."
Getting children to associate popular cinema figures with healthy products is a great method to improve their diet and helps them to acquire healthy eating habits which last into adulthood, Rötzer said.
The company has previously enlisted the help of Paddington Bear, Shaun the Sheep and Heidi to encourage children to eat more fresh produce.