Asda is selling US-sourced lettuce for £1.20 in some stores - at almost three times the price of Spanish produce as salad availability issues worsen.
The product, spotted by an industry insider at an Asda store in the north west of England yesterday (25 January), has US supplier Tanimura & Antle (T&A)'s brand visible on pack, as well as the letters 'Tna' printed on the price and origin label.
It comes as importers, wholesalers and growers of Spanish produce continue to face sky high prices after floods and then snowfall decimated crops, while retailers have kept prices at around 50p until now.
Asda is still selling loose Spanish iceberg in other stores and online at 50p, matching other retailers at around this price point, despite shortages becoming evident on shelves. The retailer had not responded to a request for comment at the time of writing.
The source told FPJ that Asda must be selling US iceberg at spot market prices, whereas Spanish produce is still under fixed-price contracts.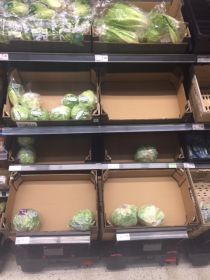 T&A branding on lettuce at Asda
Meanwhile, wholesalers are reporting that there is a "false market" as courgette prices have dropped slightly this week after customers started shopping at retailers where prices on affected lines, such as courgette and iceberg, are almost a third of the market price.
"Our customers have been visiting supermarkets and this has slowed our trade," said Nick Padley, salesman at P&I Side Salads. "You've got four or five wholesalers sitting there with pallets of courgettes, which they've paid high prices for, but people can get them cheaper elsewhere. Then you're stuck with the product and forced to take lower prices. People think it's getting easier, but it's a false market. There is still a product shortage."
To combat the wholesale purchase of produce in retailers, some stores have capped the number of lettuces shoppers can buy, according to Tom Burton, sales and procurement manager at Birmingham wholesaler George Perry.
He said: "In many stores in the UK, customers are allowed to buy a maximum of two iceberg lettuce heads each. We have had to source instead from the US, which is far more expensive."
Padley said growers who have seen their houses and villages devastated by flooding may be tempted by higher prices from other European markets, or look to renegotiate contracts with UK buyers. "Lots of growers are having to pull out of retail contracts and renegotiate prices, but this hasn't kicked in yet. Now supermarkets are starting to lose availability so it's becoming a more level playing field again," he said.
There is no Spanish iceberg coming through, said Padley, who warned that there will be a six to eight week shortage until crops planted in the hills and away from floods are ready for harvest at the end of the season. Meanwhile, Spanish growers are importing US lettuce to ensure they can fulfil orders at a high cost, he added.
"They will lose a fortune. When you've got growers with houses flooded that's their priority, not picking lettuce, and then if they're being offered £12 or £14 a box from Germany, or Holland, or Russia, they're going to go where the money is. That's how the UK could end up with nothing," he said.