Sainsbury's and Aldi have joined Asda in raising the price of iceberg lettuce and stocking US product as the market grapples with the "worst supply situation in the UK in decades".
Sainsbury's is today (26 January) selling US-grown iceberg for £1.40 each under the Farm Folk brand, packed by Ely-based Adventures in Food.
Aldi has US iceberg on sale in some stores for 78p, while in other stores there are signs warning that the product is out of stock.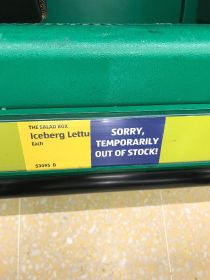 Iceberg was out of stock at an Aldi store in the south of England today (26 January)
The news comes as retailers have begun to show signs of the severe lack of Spanish product on the market. Until yesterday, supermarkets had been able to stock fixed price Spanish iceberg at prices of around 50p. Asda was the first to move prices by stocking T&A branded US iceberg for £1.20 at some of its stores yesterday.
Online retail prices of iceberg remained pegged at 50p or just under at the time of writing.
An industry source told FPJ: "This is the worst supply situation we have seen in the UK for decades. It will be interesting to see how consumers react to higher prices, which are an inevitable result of bringing product from the US.
"Prices have been very low for a long time now. At 78p, Aldi is still lower than prices of around three years ago," the source added.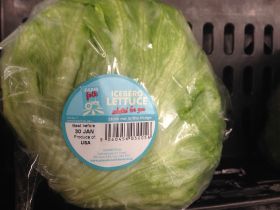 US-iceberg under the Farm Folk brand is selling for £1.40 at Sainsbury's
John McCann, managing director of Irish salad packer and processor Willowbrook Foods, has been in Murcia for the past week, supporting growers through the crisis.
He said: "For the past two months, the region has had catastrophic natural extremes of climate to deal with, resulting in severe shortages and farmers facing 80 per cent irreparable crop damage.
"I have witnessed first-hand the devastation of these floods, which have washed away planted crops and turned fields into lakes. Mud has washed over level fields with crop, and those fields due to be planted, have become rivers of mud.
"The crops are 80 per cent unusable and with up to four weeks of planting missed and little or no growth happening, a disaster is unfolding. What happens next will depend on the temperatures over the coming weeks."
Like other companies, Willowbrook Foods has been unable to fulfil some orders to retail and foodservice customers, McCann said. "Last week we had a shortage level of up to 70 per cent, which is completely unheard of in our business," he added.
Wholesaler Nick Padley of P&I Side Salads told FPJ that there will be a shortage of at least six to eight weeks on iceberg, until the next production cycle is ready for harvest.
Any Spanish product that is now available is in demand across Europe, with Dutch, German and Russian markets potentially offering more money than the UK, he added.
Meanwhile, other lettuce varieties and baby leaf are also experiencing severe shortages. Ed Bowers of Burbank Produce said French salads have risen overnight including Lollo Rossa which has doubled in price in the last two weeks.