Avocados are used to being the centre of attention and the darling of every self-respecting millennial's eye, but their popularity looks set to rise to another notch after a train company offered young people discounted tickets if they turn up brandishing the green fruit.
It sounds like an April Fool's Day prank, but Virgin Trains reacted to the news that the newly launched 26-30 Railcard had sold out by introducing the #Avocard - a promotion in which young people who missed out of the Railcard can claim the same discount simply by producing an avocado.
The rail company's website explained: "With the #avocard, you'll get all the perks of the 26-30 railcard. Simply present an avocado in place of the railcard at any Virgin Trains West Coast station to get a 1/3 off our fares."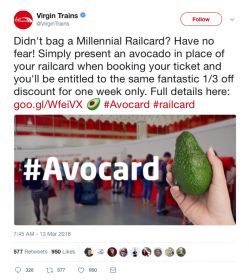 The promotion is set to last for a week, from 13-20 March, and only applies to tickets bought at offices, ending hopes of scenes of young people desperately stuffing avocados into the coin slots of ticket machines. Photo ID will also be required to prove the age of the fruit-bearer.