Colombia has the potential to develop a wide range of fruits for the export market, but faces serious challenges on the road to building a successful future in the global market.
This was the take-home message from Fruitnet Forum Colombia, the brand new conference and networking event organised by Fruitnet Media International in recognition of Colombia's growing presence on the international fresh produce market.
Producers, exporters, importers, buyers and service providers met at the Hilton Hotel in Bogotá on Tuesday to hear about the opportunities for Colombian fruit in key export markets in Asia and Europe including China, South Korea, Poland and the UK.
The forum allowed new challengers and industry veterans including Anecoop's Paco Borras, Gonzalo Morales of Tesco, Pedro Aguilar of Westfalia Fruit Colombia, Nigel West of Tropical Direct and FLP International's Néstor Gutiérrez to share their experiences of the challenges that lie ahead, be it how to adapt to Europe's changing retail landscape, or addressing the demands of tomorrow's consumer.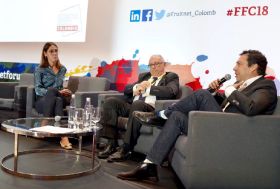 Ample networking breaks and a morning of one-to-one meetings afforded producers plenty of opportunities to connect and do business with importers and buyers throughout the course of the two-day event.
The programme covered every aspect of the supply chain, from production through to the final consumer, providing up-to-date information and analysis on the latest trends and what Colombia needs to do in order to fulfil its export potential.
Delegates heard about the extensive work being done by public organisations such as the ICA, UPRA and the Ministry of Agriculture to introduce good agricultural practices to the sector and improve awareness of issues such as residue levels and quality requirements in the international market.
The need for more widespread adoption of good agricultural practices, together with inadequate logistics and cold chain infrastructure, were identified as two of the biggest challenges facing the sector.
The long distances between farms and packhouses – often over mountainous terrain and poor roads – can have a major impact on fruit quality. Investments in infrastructure have failed to keep pace with the dramatic rise in production and are a major stumbling block on the road to export growth, delegates were told.
Two of China's leading importers, Heidi Zhang from Shanghai Supafresh and Eric Zheng of Goodfarmer, together with Joon Hong Choi of South Korea's Sooil Commerce, Martina Otten of Spain's Trops and Grzegorz Kusnierz and Anna Ostapiuk from Consorfrut Polska, provided invaluable insight into where they see the best opportunities for Colombia in their respective markets.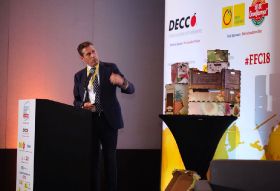 Avocados, one of the products currently leading Colombia's export boom, dominated much of the discussion during the conference. The conference heard how the rapid increase in planted area, fuelled by the arrival of some of the biggest avocado suppliers from South Africa, Mexico, Peru and Chile, means Colombia's output could match that of Peru within 5-6 years.
It wasn't all about avocados. A session covering future export winners heard from experts Noris Ledesma of Fairchild Tropical Botanic Garden, Luis Carlos Afanador of Proplantas, Javier Parra of Rijk Zwaan and Nigel West of Tropical Direct on the strong potential to develop production and exports of mangoes, blueberries and melons.
In all three cases, selecting the right varieties will be one of the crucial factors underpinning future growth.
In spite of having the ability to grow a wide range of other fruits throughout the year, producers should focus on identifying and exploiting profitable supply windows and markets, Mihai Ciobanu of Fresh4cast told delegates in an in-depth analysis of trade patterns in key products.
In avocados, this could mean leveraging year-round supply in Europe while targeting the March-April window in China, while in pineapples the market data indicated that the May-June window might be the most profitable for Colombia.
The programme also looked at some of the key developments in logistics, pre- and post-harvest and packaging that would help Colombian exporters become more competitive.