Growth rates at UK fresh produce companies have fallen to their lowest level in seven years despite ongoing expansion in firms' average value.

According to the analysis of company accounts filed in the 2018-19 financial year, the average change in company value fell to 1.5 per cent, representing a 0.6 per cent decrease compared to a figure of 2.1 per cent recorded the year before.
While small, this drop is significant when compared to 2016-17, when the average change in company values reached 7.5 per cent.
The data, released by financial analyst Plimsoll Publishing, reveals ongoing volatility in the fresh produce sector, with average company growth rates fluctuating considerably in the past seven years.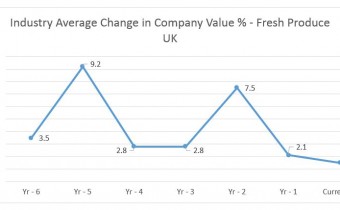 Generally, annual growth rates, have stood at around three per cent but there have been peaks of 9.2 per cent in 2013-14 and 7.5 per cent in 2016-17.
Data from France, Italy and Spain – as well as Europe as a whole – shows that the average change in company values for fresh produce companies has declined across the continent in the last year.
The most significant decline was seen in France, where the average change in company values fell from 6.7 per cent in 2017-18 to one per cent in the past year.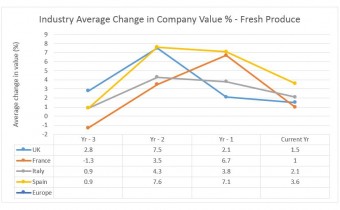 Fresh produce companies with sales over £46.4 million continue to dominate the market with over two-thirds market share (70.5 per cent). This figure remains fairly static, having fallen only 0.4 per cent compared to the previous year.
Companies with sales below £3.5m represent 3.8 per cent of the market.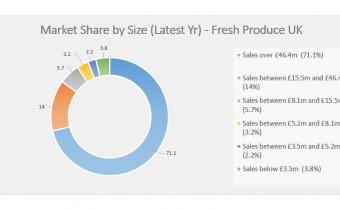 Plimsoll Publishing's figures are based on analysis of 931 UK companies in the fresh produce industry. The company's independent market analysis of 1,600 industries is updated with the latest data from Companies House.