Crimson Snow, a new branded apple produced in Italy with deep red skin and white flesh, has made its international commercial debut with the launch of limited edition sales programmes through two of Germany's leading retail chains.
Samples of the licensed product, which was developed from a chance seedling called mc38 and is managed worldwide by Kiku Variety Management, have also been sent to a major retailer in Italy itself as well as to clients across Europe, North Africa, the Middle East and Asia.
According to Kiku chief executive Jürgen Braun, a number of commercial deals for Crimson Snow were struck at Fruit Logistica in Berlin, with interest said to be high among retailers keen to sell the apple as a branded item.
"The apple comes from Australia," explains Braun, "and is today grown on almost 100ha in Italy by our three licensed partners: Rivoira and Sanifrutta in Piedmont, and Fratelli Clementi in various parts of norther Italy including South Tyrol and an area near Venice, where we ourselves planted 12ha."
As Eurofruit reported recently, Kiku's aim is to achieve production of 10,000 tonnes within a short space of time, and the company has reported interest in the apple from growers elsewhere in Italy as well as France.
In Australia, production of around 15ha of Crimson Snow has been established by licence partner Holman Fresh, while across the Tasman Sea in New Zealand another Kiku partner, Freshmax, is currently awaiting the first fruit from its own initial plantings.
In the US too, around a dozen test sites have been set up. Interest in Chile and South Africa is also said to be high, with lots of marketers in those countries reportedly considering the apple to hold a good deal of commercial potential in Asia and the Middle East.
Nice returns
Luis Clementi, technical manager at Fratelli Clementi, says his company's growers are enthusiastic about the new variety. "It is really grower friendly: it needs less work, it is environmental friendly, it's picked almost in one go, has a very high packout and is just perfect in storage," he explains.
"This gives our growers a very nice return, which is important for them to produce quality fruits and be ready for innovations."
Marco Rivoira, chief executive of Rivoira Group, believes Crimson Snow's grower-friendly attributes also make it an attractive prospect for customers.
"Once on the shelf, this apple is like no other, keeping its characteristics for a long time. This makes the variety simply perfect for retailers, because it does not bruise and is extremely easy to handle," he says.
"Obviously, the apple itself must be good, and I can tell you, it is: consumer tests speak about an acceptance of nine out of ten. Consumers love the attractive crimson red over-colour, the whitish flesh and the exotic taste. [It's] a great piece of fruit."
Eraldo Barale, chief executive of Sanifrutta, suggests the apple's long storage times make it perfect for late season, when other red apples are gone.
"We create our own space, and probably don't necessarily need off-season fruit," he comments. "We want push our local product. In fact, consumers are demanding our fruit more and more and are sensitive to CO2 emissions, mileage and other environmental aspects."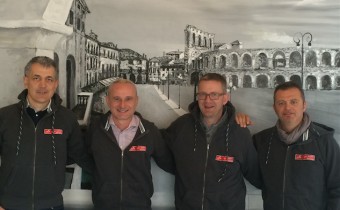 Pictured (l-r): Eraldo Barale (Sanifrutta), Jürgen Braun (Kiku Variety Management), Luis Clementi (Fratelli Clementi) and Marco Rivoira (Rivoira Group)