With the New Zealand avocado season starting to roll in, a new promotional push for the fruit is about to happen across the ocean.
Market access for New Zealand avocados in China was approved in January this year, but plans for promoting the fruit began long ago for avocado brand Avanza.
Their label, Chao Niu Guo (超牛果), is just about ready for its official release this month, which will include a retail push through promotions and tastings. The brand name, developed by Jerry Clode, director at Resonance, translates to 'next-level cool fruit'.
To differentiate in a growing market, Avanza has decided to brand only large-sized fruit with the Chao Niu Guo label, helping to reach their goals of becoming a category leader.
Avanza has been working closely with Goodfarmer to ensure best practises when handling, storing and ripening the fruit, and will oversee its arrival onshore in China.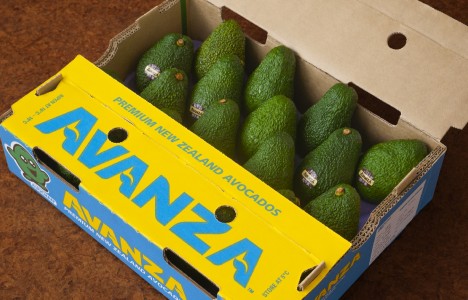 Steve Trickett, marketing and communications manager for Avanza, told Asiafruit that following a trial shipment, the first full containers will arrive in Shanghai on 18 October, with a retail activation programme commencing 26 October.
The programme will include an initial phase of 150 in-store tasting demonstration days across retailers including Hema, City Super, Metro and Carrefour. Avocados will also be available online through JD.com and other channels.
"As with most markets we export to, in-store tastings and product demonstrations remain the most effective and rewarding promotions investment we make," said Trickett.
"China will be no different and being a relatively new market, consumer education on aspects such as nutritional content, product versatility, usage, and recipe ideas are key components in avocado promotion."