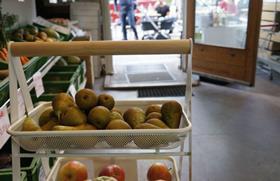 This summer will see the opening of Scandinavia's first zero-packaging supermarket, according to Food Tank, as LøS Market prepares to launch in Copenhagen, Denmark.
The store was conceived by Frédéric Hamburger and Constance Leth as a response to the excessive use of packaging by retailers and the high level of food waste across the European Union.
Eurostat estimates that 156kg of packaging waste is created per person per year in the EU, while the Danish Environmental Protection Agency (EPA) calculates that 42kg of edible food waste is produced per person per year in Denmark.
The store drew its inspiration from a similar outlet in Germany called Original Unverpackt, while a zero-packaging grocery store equally exists in Oslo, Norway.
L0S plans to sell over 400 organic products, sourced from local producers where possible.
Customers will apparently be asked to bring their own containers, although tcompostable paper bags will be available for dry goods.
A recent report by the EPA showed that most fresh food was thrown away by single people, a probable consequence of the limited availability of single-serve options in Scandinavia.
LøS, which loosely means both "single item" and "to find a solution", is a response to this issue. In the future, the founders hope to extend the concept throughout Scandinavia.