A targeted campaign promoting the sale of hail damaged fruit has taken out Australasia's premier marketing award for the fresh produce and floral industries.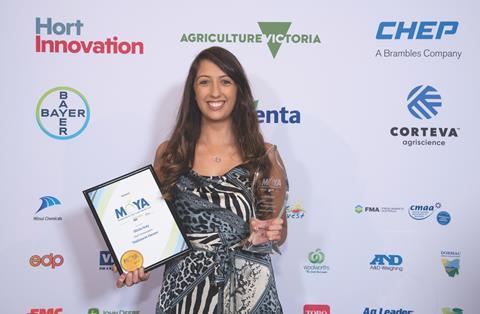 Olivia Grey has proven that adversity can provide a platform for opportunity. The Hort Innovation marketing manager for apples and pears accepted the 2019 PMA-Produce Plus Marketer of the Year Award (MOYA) at the Hort Connections Gala Dinner in Melbourne in June. Grey speaks exclusively to Produce Plus about the Hailstorm Heroes campaign that netted her the prestigious award.
Can you tell us what winning MOYA means to you and the team at Hort Innovation?
Olivia Grey: It is truly a privilege to be the winner of the pma-produce plus Marketer of the Year Award for 2019. I was up against some fantastic finalists who delivered exceptional work on behalf of industry. This award will help to raise the profile of Hort Innovation and promote our ability to deliver best-in-class marketing campaigns that drive value for growers.
The award is not only a recognition of my hard work, but also the work of everyone in the industry who collaborated to make this campaign a success, including the South Australian growers, retailers and our partner agencies. Their support during this campaign ensured that our hard-working growers, who were affected by the hailstorm, received a return on their crop.
It is also important to note that all five representatives at this year's moya Showcase were women, which is a great acknowledgment of the contribution that women are making to the horticulture industry.
What was the core purpose behind the Hailstorm Heroes campaign?
OG: In October 2017, a severe hailstorm hit the Adelaide Hills and South-East Adelaide, damaging apples and pears as they were just beginning to grow. The apple and pear industry is still adding up the full cost of damages but estimates place losses at around A$32m. Around 85-90 per cent of South Australia's apples and pears are grown in the Adelaide Hills and almost all the orchards sustained some losses during the widespread storm.
Local growers worked hard to save the apples and pears that only had a few superficial marks on the skin but were still delicious and nutritious inside. Facing huge losses, South Australia growers approached Hort Innovation for apple and pear marketing levy funding for a consumer campaign to support the sale of the hail affected fruit.
In 2016, Apple & Pear Australia (apal) developed the Hailstorm Heroes campaign on behalf of Australian pear growers following a hailstorm in the Goulburn Valley. To drive efficiencies, Hort Innovation leveraged the 2016 Hailstorm Heroes campaign but updated it to be relevant for the South Australian and Northern Territory markets. This included new graphics and key messages.
The objective of the campaign was to generate consumer awareness of the hailstorm and drive purchase intent of hail affected fruit via an integrated above and below the line campaign. Consumers were urged to support South Australian growers by overlooking the spots and dots on the outside of the fruit and enjoying what was inside. Hort Innovation was responsible for managing the campaign end-to-end, including stakeholder liaison (growers, retailers, agencies), creative development, managing execution and reporting.
Who was the target audience?
OG: The campaign targeted main grocery buyers aged 25-54 years in South Australia and the Northern Territory. The campaign capitalised on South Australians sense of local pride by calling on consumers to rally behind their local growers following the hailstorm. Creative called out South Australia prominently, and also leveraged, where possible, the 'Brand SA' logo to further drive engagement with consumers. The Northern Territory was included in the campaign as South Australia is also the primary supplier of apples and pears to this state.
Which platforms did you use to deliver marketing activations and why were they chosen?
OG: At the beginning of the campaign, we worked with growers and our creative agency to align on a key visual, with a clear key message talking to the South Australia hailstorm, along with updated apple and pear graphics from the 2016 Hailstorm Heroes campaign. This key visual was leveraged for packaging, point of sale materials and media.
We discovered through our media agency that South Australian consumers over-index on hours spent listening to radio and watching digital media, compared with watching television. With this insight, we planned 30 second radio advertisments across the major networks in South Australia, and targeted South Australian and Northern Territory consumers with Facebook video posts, which provided cost-effective audience reach.
Earned media through public relations (PR) was important for driving mainstream media coverage, due to the limited budget available. PR activity included media and influencer outreach in South Australia and the Northern Territory through press releases, grower photo and interview opportunities, Hailstorm Hero fruit hampers and social media toolkits.
One of the unique elements of the campaign was packaging. Traditionally, packaging is managed by growers and not something that sits within the realm of marketing at Hort Innovation. However, because of the impact of the hailstorm on the crop, it was important to have bespoke Hailstorm Heroes packaging to communicate the campaign's key messages at the point of sale to help convert purchase. We worked with growers to design 1kg and 2kg apple pre-packs, and 1.5kg pear pre-packs for Coles, Aldi and independent retailers. Stickers were also developed for Woolworths' Odd Bunch range. This packaging helped with ranging, as retailers knew that we would be driving awareness of the campaign above the line with marketing dollars, which would drive people to store. It also helped to track sales and create a clear point of difference on the shelf.
To help drive the visibility of the pre-packs, and to demonstrate the great taste of the marked fruit, in-store demonstrations were conducted across Coles, Woolworths, and independent retailers across South Australia and the Northern Territory.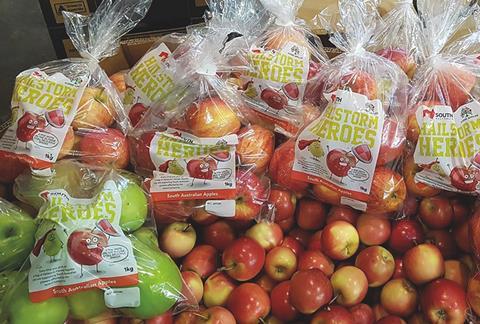 How did you measure the success and reach you were able to achieve with this marketing activity?
OG: We set key performance indicators (KPIs) for our marketing activity across PR, social media and radio for reach and frequency, all of which we overdelivered on. Across PR, our KPI was set at creating 2m opportunities to view the campaign. Due to strong local media interest in South Australia, we achieved a reach of over double the KPI at 4.5m views, including television coverage on the major networks in South Australia and coverage in The Advertiser newspaper. We also received positive feedback on the campaign through comments on Facebook and from consumers in store.
Additionally, we tracked the production of 1kg and 2kg bags to determine sales, which revealed that consumers crunched their way through over 1,000 tonnes of Hailstorm Heroes fruit. The average wholesale price achieved for fruit sold through the Hailstorm Heroes bags was A$1.50 per kg, equating to over A$1m in wholesale revenue. Without a market to sell the hail affected fruit, much of it would have been dumped or received a lower price as juice. Given our marketing budget was about 10 per cent of this revenue figure, we're comfortable saying that Hailstorm Heroes helped to deliver positive grower returns.
Can the campaign be repurposed? If so, what added value does this approach deliver?
OG: With weather events like the hailstorm in South Australia becoming more frequent, and limited levy funds available, it is crucial to find cost effective and timely solutions. South Australian growers were actually hit with another massive hailstorm in late 2018. Since we developed the 2018 campaign to be repurposed, we were able to update the creative with minimal tweaks and reactivate the campaign in early 2019 to support South Australian apple growers.
Further, our decision to leverage the 2016 Hailstorm Heroes campaign ensured we did not have to reinvent the wheel. We could build on existing creative with minor tweaks to the look and feel and key messages which allowed us to be live in market on time. In addition to this the money saved on creative development could then be used to amplify the campaign, delivering industry more bang for its buck.
What do you believe makes a successful marketing campaign?
OG: The first is stakeholder engagement. We worked closely with our key stakeholders from the outset to align them to the campaign, avoiding potential roadblocks and ensuring everyone was working towards the same goal. As a result, the campaign demonstrates what can be achieved when all parties work together; from the growers who worked with us on key messaging, timing and tracking results, through to the retailers who stocked the Hailstorm Heroes packs and the agencies who turned the campaign around quickly.
Secondly, consumer insights should be at the forefront of campaign planning. Having an understanding of the size of the audience and their behaviour helped us to deliver effective targeted communications and marketing activity which ultimately allowed us to maximise our limited budget.
Finally, metrics for success should be aligned between key stakeholders, set and tracked during the campaign. It can be difficult to calculate a return on investment for marketing, which can lead to scepticism about its ability to change behaviour and deliver on returns. In this instance, we were able to track the sale of pre-pack bags, which allowed us to determine a farmgate return and see the impact the campaign had on the category at a retail level, which has helped confirm its success.