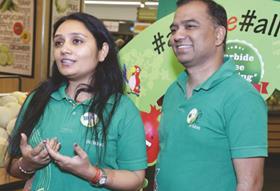 Agri-tech start-up AgroStar has acquired Mumbai-based INI Farms, one of India's leading exporters of fruit and vegetables including bananas and pomegranates, which markets its products under the Kimaye brand.
The Pune-based digital farmer network and agri-inputs platform acquired 100 per cent of INI Farms through a combination of cash and stock for an undisclosed value.
AgroStar's co-founder and CEO, Shardul Sheth, commented:"AgroStar today is India's largest digital network of farmers, helping them grow better by providing great content, real-time advisory and superior quality agri inputs.
"As we look to provide additional value to our network of farmers, we are delighted to partner with Pankaj and Purnima. Their efforts over the years have put the Indian farmer on the world map by making great quality Indian fruits available around the world.
"This acquisition will enable us to rapidly scale our business into the domestic and international food supply chains.
Sheth said the group will have a combined turnover of more than Rs 1,000 crore in the next fiscal year, a three-fold increase on AgroStar's current turnover.
Pankaj Khandelwal, chairman and managing director of INI Farms, said the deal would give INI Farms access to a much wider and diverse range of products to offer its global customers.
"The agriculture story in India is poised for a multi-fold growth. We believe that large platforms providing end-to-end services to the farmers from advisory and inputs to output offtake is going to drive this transformation," Khandelwal said.
Set up in 2013, AgroStar's omnichannel platform provides end-to-end solutions for farmers, helping them to improve quality, reduce costs and increase yields.
It provides its proprietary agronomy knowledge, data and technology to millions of farmers across five Indian states: Gujarat, Maharashtra, Rajasthan, Madhya Pradesh and Uttar Pradesh.