India edition provides in-depth focus on the country's fresh fruit market in the lead up to Fresh Produce India, plus, Fresh Focus South African Apples & Pears 2023
The April 2023 edition of Asiafruit Magazine is now available on the Asiafruit app – Apple and Android – bringing you the latest news and views from across Asia's fast-moving fresh produce markets.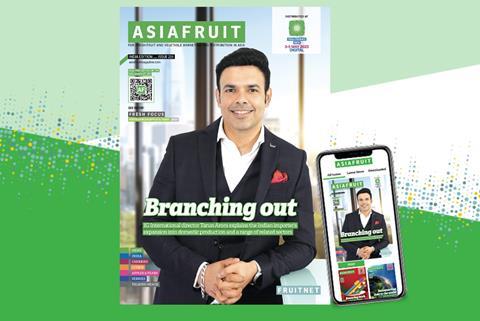 The India edition provides the perfect to Fresh Produce India 2023 – held online on 3-5 May – by providing an in-depth focus on the country's fruit import market while also profiling some exciting new investments in domestic production.
In a keynote interview, IG International director Tarun Arora explains the Indian importer's expansion into domestic production and a range of related sectors.
Read about the latest trends in the Indian market for key and emerging categories such as apples, grapes and avocados.
Asiafruit April also includes the second edition of Fresh Focus South African Apples & Pears. This special supplement spotlights the South African pome fruit industry and explores how new varieties are preparing exporters for emerging challenges and market diversification.
This edition also features the latest on the Californian cherry season, South African citrus updates and coverage of the Southern Hemisphere apple campaign.