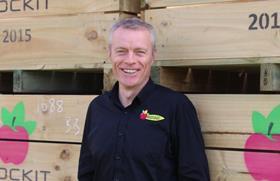 Rockit Global has announced the resignation of chief executive Austin Mortimer.
Mortimer had been with the company for almost five years, over which time he oversaw the global development of the Rockit apple brand.
Developed and first grown in Hawke's Bay, New Zealand, Rockit apples are now sold in 27 markets around the world and grown under license in nine countries.
"It's always challenging to get the timing right when the inevitable time comes to part ways with any company, and I've always been someone who errs on the side of departing early rather late. But deciding to leave Rockit has been particularly difficult," Mortimer said.
Rockit Global chair John Loughlin said Mortimer had been an integral part of the company's growth.
"I want to thank Austin for the fantastic job he has done bringing Rockit to where it is right now, poised for the next stage of growth and development," Loughlin explained. "He has built a hugely capable team and initiated our exciting Irongate development (future home of Rockit). We wish him all the best in his future endeavours."