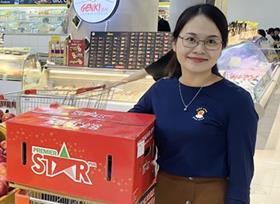 Bostock New Zealand has teamed up with Pure Pac to supply the Vietnam market with New Zealand-grown cherries over the 2021/22 season.
The collaboration comes after Bostock – New Zealand's largest organic apple exporter ­– established an offshore company, Bostock Asia, in Vietnam at the end of 2020.
Based in the Central Otago region, Pure Pac is one of New Zealand's largest cherry grower-packer-exporters.
Bernadine Guilleux, commercial manager of Pure Pac, said Vietnam's growing importance as a destination for premium fresh produce had caught the attention of her company, as had the in-market representative model being developed by some New Zealand exporters.
"When I heard that Bostock had set up a market representative office in Ho Chi Minh, it was clear our two companies shared the same export strategies," Guilleux explained. "However, unlike apples, the cherry season is action packed but short lived – having our own representative was not viable. The hope was that we could find a way to partner with Bostock in Vietnam."
Guilleux said the collaboration with Bostock has been well received by the Vietnam market.
"Our customers recognise that Bostock and Pure Pac share the same commitment in delivering premium fruit to our partners in market. We see cherries as a complementary product for Bostock and vice versa and together we can better meet and satisfy the import demands of our customers for 12 months a year," Guilleux explained.
"While the cherry market in Vietnam is becoming more competitive, the Pure Pac point of difference is our high quality. Providing a consistent and superior quality experience to the end consumer is our underpinning value. Central Otago cherries have proven susceptible to extreme weather events but investment in our packhouse and rolling out rain covers over our orchards is allowing us to uphold our high-quality standards."
Bostock's in-market representative in Vietnam, Huong Nguyen, said the prospects looked good for Pure Pac cherry sales this season.
"Vietnam's premium cherry market is growing, and this demand is being seen across our customers in both modern retail and traditional channels," Nguyen explained.
"While there are cherries coming into Vietnam from other Southern Hemisphere countries, New Zealand quality stands out, particularly for the Lunar New Year festival where only the most premium products are sought by consumers for gifting. Our customers have also recognised Pure Pac as one of the higher quality New Zealand cherry brands."
Looking to the season ahead, Guilleux said Pure Pac's cherry crop is looking very good after a warm spring.
"The fruit set is high with and even spread across the trees," Guilleux explained. "A hot, dry summer is forecast so we expect high sugar levels and a slightly earlier harvest which is an exciting lead in to supplying fresh air-freighted fruit for Vietnam's holiday period."