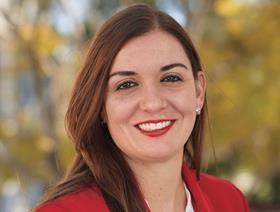 DiMuto has appointed Julie Escobar as the company's new chief strategy and commercial officer, effective immediately.
The new role will provide strategic leadership across the agri-food trade solutions business and accelerate DiMuto's market presence in the US and Latin America regions.
Escobar is the founder and president of Nexus Agrotec, a consulting firm helping ag-tech businesses to expand sales growth around the world and brings two decades of produce industry experience to the role.
"We are excited to partner with the Nexus Agrotec team, currently led by Julie. On our journey of international scalability, Julie's experience is critical to our ability to grow and service our existing and new customer accounts," said Gary Loh, founder and chief executive officer of DiMuto.
"Julie is an outstanding veteran leader in the fresh produce industry and has helped companies achieve tremendous growth with domestic and international opportunities. I believe that she will be a valuable addition to get DiMuto to our next stage."
Prior to her current position, Escobar was the senior vice president of partnerships at Renewable Resources Group, overseeing strategic investments in sustainable agriculture in countries such as Mexico, Colombia, and Peru.
Before that, she was the vice president of global sales for Sun World International, where she was involved in elevating the Sun World brand and building their export team.
Escobar is also the co-founder and president of Global Women Fresh, a global non-profit organisation working to close the gender divide in the produce industry and provide opportunities for women in produce to network, connect and learn across the fresh food supply chain.
"DiMuto is uniquely equipped to help produce companies overcome the challenges of operating the 'messy, middle' of international supply chains with its strong suite of trade solutions. The commitment to drive positive changes in the global agriculture landscape with data by using solutions that truly cater to how the industry operates is something I am proud to now be a part of," said Escobar.
"I strongly believe that what DiMuto has to offer will provide great benefits to the different stakeholders in the agriculture industry. I cannot wait to help shape and drive the company forward."
The latest addition to DiMuto's Executive team comes off the back of the company's Series A funding round late last year and follows several industry partnerships with companies such as PT Sewu Segar Nusantara and SunMoon Food in Asia.