Unique grape flavours, low-chill cherries and enhanced tools for breeding fruit all feature in forecast
International Fruit Genetics (IFG) has made a series of predictions for the table grape and cherry categories for the year ahead.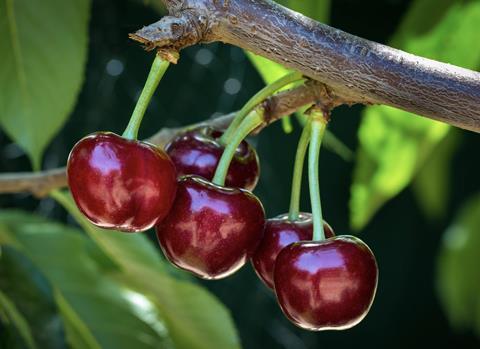 Starting with table grapes, the leading fruit breeder expects many retail outlets to offer some "rather exotic and distinctive flavoured" grape varieties to appeal to "more eclectic" palates.
"Not too long ago, table grapes had a relatively uniform taste. When shoppers put grapes in their baskets, they knew what they were getting," said Jennifer Maguire, international commercial table grape manager at IFG.
"That all started to change about ten years ago with new and exciting varieties that had flavours which were not so traditional and grape-like, such as Cotton Candy.
"Today, table grapes can be spicy, minty, or have a tropical taste and aroma. Some taste a bit like toffee or strawberries – and imagine grapes that contain a slight floral or papaya accent."
Low-chill cherries crucial
As growing regions continue to present warmer conditions, low-chill cherries will take on a more important role than ever, according to Alwyn van Jaarsveld, , IFG's international commercial cherry manager.
"The aim of a low chill cherry programme is to go early and low chill, which means the fruit will require fewer chill hours during the course of a winter," explains van Jaarsveld.
Low-chill offerings open considerable doors for cherry breeders and growers, including paving the way for the fruit to be grown in traditionally warm climates such as Southern California, Israel, and Egypt.
They also allow consumers to get cherries earlier.
"Now, low chill cherries are the first of the cherries that consumers will taste, and these varietals will provide a make-or-break experience for the cherry season," van Jaarsveld added.
"We see these low chill cherries being planted in more locations than ever, allowing better maintenance of supply to retail. It is frustrating to the modern consumer to have a now-you-see-me, now-you-don't availability of fruit. We want the first experience of the season to be early and amazing."
Data driven breeding
IFG also forecast a heavier reliance on data in the fresh produce industry. Chris Owens, IFG's lead plant breeder, said new genomic technologies mean today's major fruit breeders can generate terabytes (TB) of genetic data at very low costs, compared to historical standards.
Linking this genetic data with important plant breeding data allows scientists to unlock what does and does not work in terms of creating fruit that appeals to consumers, or the ability to produce new and exciting flavours.
Owens said the ability of organisations to utilise this data for strategic breeding practices will become crucial.
"We have tens-of-thousands of new seedlings every year," said Owens. "The ability to sequence the genome of virtually all individuals of our breeding populations has helped create amazing new opportunities in breeding."
Owens admited there were challenges associated with the process.
"The volume of data is so large that it can be difficult to analyse and process, but fortunately, new methodologies and constantly improving software allow us to analyse and utilise the treasure-trove of information," Owens said.
According to a media release from IFG: "Data overload is a problem that most organiSations face and in 2023 companies will need to prioritise digital transformation to get their IT infrastructure inline to ensure that data is cleaned and organised, which can then be utilised to foster innovation — all of which will benefit growers, retailers, and consumers."