Brazilian company wins second annual award named after fruit breeder's founder
International Fruit Genetics (IFG) has announced Kuara Comercial e Exportadora de Frutas as the winner of the second annual DW Cain Award.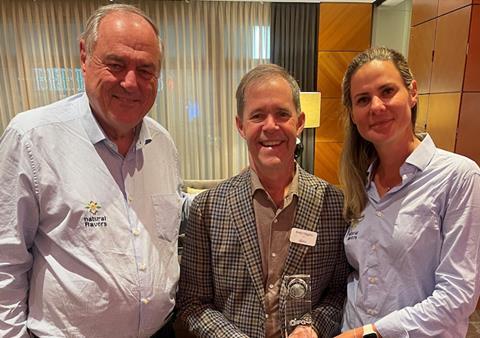 Named after IFG founder Dr David Cain, the award recognises grape licensees that support and promote IFG's vision through the best adoption and promotion of its varietal logos and trademarks.
The IFG team selected Kuara Comercial e Exportadora de Frutas for its work in the American and Brazilian markets, which has included marketing, events and consumer tastings.
"Their unique programmes for the development, appreciation, recognition and promotion of IFG fruit has never been done before by another Brazilian marketer," according to a release from IFG.
Kuara Comercial e Exportadora de Frutas grows a range of IFG table grape varietals, including Cotton Candy, Candy Snaps, Candy Dreams, Sugar Crisp, Sweet Celebration and Bebop. It is currently testing Julep.
"While their founders Arnaldo, Daniel and Ilonka Eijsink have been long-time supporters of IFG, Kuara Frutas officially joined the IFG licensee family in 2021," said IFG chief executive Andy Higgins.
"Since then, they have fully committed to utilising our trademarks and marketing our table grapes in unqiue and highly visible ways.
"In the short time they've been a licensee, they have already been a pioneer in their work with high value segments in the Brazilian market."
Daniel Eijsink, managing director and partner of Kuara Comercial e Exportadora de Frutas, said the company was honoured to win the award.
"We strongly believe in IFG's dedication to innovation as well as its excellent work in providing unique and delicious flavours for all of the IFG varieties – which helps us market and sell the grapes to a great number of customers," said Eijsink.
"IFG consistently deliver varieties that that are wholly unique and delicious – enabling our company to be both productive and successful."
Peru's Agricola Andrea SAC won the inaugural DW Cain Award in 2022