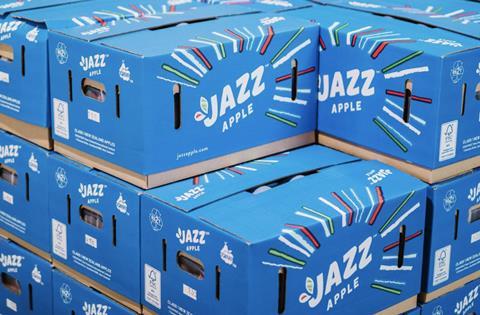 T&GGlobal has sent its first consignment of new season Jazz apples from New Zealand.
The initial shipment departedNapier Port last week, bound for the UK. Anothershipment,being loaded for the UK and Europe, leavesNapier next weekwith2.8m Jazzapplesonboard.
Grown in the Hawke's Bay, Nelson and Otago regions, this season's Jazz crop has benefited from warm and sunny growing conditions, resulting in an earlier harvest than usual.
"First grownin New Zealand 25 years ago, today Jazz apples are a Kiwi household favourite and loved by consumers around the world," said T&G head of marketing, Rebecca Chapman. "Grown under license in 10 countries, they're exported to more than 45 countries and available all year round."
T&G unveiled a brand refresh for Jazz earlier this year. Chapman said the new look reinforces the 'always refreshing' Jazz tagline.
The updated brand will be rolled out across global markets over the coming months, starting with the US and Japan.
"The refreshed Jazz look was co-developed with consumers to make our premium apples stand out from the pack," said Chapman.
"Extensive consumer research in Asia, the United States and Europe identified that the balanced tangy-sweet flavour of Jazz and its ideal size is what consumers are looking for between meals, as a refreshing snack.
"The brand refresh is a key component of a much broader strategy to position Jazz as the ideal snack on the go and reinforces its unique qualities."