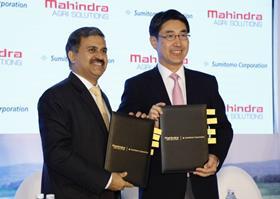 (l-r) Ashok Sharma of Mahindra Agri Solutions and Tomoaki Tetsu of Sumitomo Corporation at the signing of the joint venture between the two companies
Japan's Sumitomo Corporation will use its close ties with large crop protection companies to help Indian farmers boost yields, under a new joint venture with Mahindra Agri Solutions (MASL).
To be known as Mahindra Summit Agriscience, MASL – a subsidiary of Mahindra & Mahindra – and Sumitomo will hold 60 per cent and 40 per cent equity shares in the new entity respectively.
The partnership will offer a pipeline of specialty products designed to effectively manage pest and insect related challenges faced by Indian farmers. According to a release from MASL, India loses nearly 40 per cent of its total production in terms of value to pest attacks and diseases.
Initiated in 2005, MASL's crop care product portfolio comprises insecticides, fungicides, herbicide, biological products and water-soluble fertilisers. Its contribution to the new joint venture will be based on its strong farmer connect, wide spread domestic distribution network and agriculture expertise.
"We are delighted to join hands with Sumitomo Corporation, a leading global player, to offer the latest world class technology which would help to significantly reduce crop damage," said Ashok Sharma, managing director and CEO of MASL.
"This association will be a win-win for both the companies as it will bring Mahindra's presence across the agri value-chain and Sumitomo's global expertise, on the same platform."
Sharma said MASL would become the first Indian company to have a joint venture partner with "deep relationships" with large Japanese R&D companies.
Having started investing in the crop care distribution channel in 1992, Sumitomo now has a presence in 33 countries around the world.
"We expect the new company, Mahindra Summit Agriscience Limited to leverage Mahindra's deep penetration in the Indian market and also enable us to collaborate with other Mahindra Group companies," explained Tomoaki Tetsu, general manager of the agri-science department at Sumitomo Corporation.
"Seeing the growth momentum of the Indian market, we are confident that this JV will enable Indian farmers to accelerate access to innovative solutions in terms of technology and products which would result in the increase of farmers' income."