US company enhances prune grading and sorting with optical solution
Mariani's decision to combine its prune grading and sorting on one processing line is paying dividends.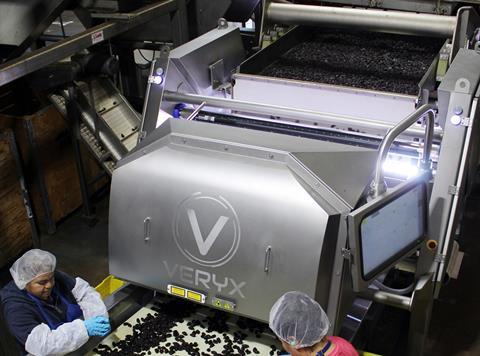 The California-based packer-processor installed Key Technology's VERYX optical sorter at its Marysville facility last year.
The move has helped Mariani find and remove all kinds of foreign material (FM). It has also helped identify varying levels of product defects, helping the company maximising its yield.
"Since a lot of our growers are diversified and grow several different crops, it's not unusual for us to see some cross-contamination," said Andrew Kennedy, director of grower relations at Mariani. "With VERYX, we've got a powerful tool that finds even the most difficult-to-detect FM and defects.
"Among other things, we've virtually eliminated all Class 1 FM, which includes allergens like little pieces of almonds and walnuts that can come from neighbouring growing fields. This is a game changer for us."
Mariani selected a VERYX C140 chute-fed sorter, equipped with front- and back-mounted colour cameras, laser scanners and Key Technology's proprietary Pixel Fusion detection module. It can recognise the colour, size, shape and structural property of every object.
The solution is programmed to find and eject defects such as scabs, cracks, exposed meat and brown rot, as well as all types of FM such as glass, rocks, plastic, insects and animal parts.
"VERYX actually out-performs our old sorter in many ways," said Mark Krause, Mariani's Marysville plant manager. "For one thing, our old sorter inspected product from the top only, so it couldn't see every defect. Now, thanks to VERYX, we're accomplishing all-sided surface inspection, which is essential for prunes since they can present defects on any side. With no blind spots, we've got a more accurate sort."