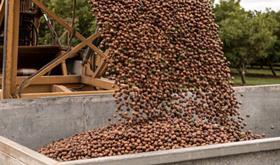 Credit: Australian Macadamia Society
New plantings and a strong Queensland harvest have driven production growth for Australia's macadamia industry.
The sector's 2021 crop weighed in at 51,500 tonnes in-shell at 3.5 per cent moisture (55,200 tonnes in-shell at 10 per cent moisture), according to figures released by the Australian Macadamia Society (AMS).
This represents a 10 per cent increase on the 2020 crop of 46,900 tonnes at 3.5 per cent moisture.
Severe weather events in New South Wales growing regions caused crop losses in some parts of the state, prompting AMS to revise down its original forecast in July.
Comparatively, Queensland growers experienced a largely uninterrupted season, with favourable weather and good harvest conditions.
"Growers in South-East Queensland had a particularly good year with no adverse weather conditions and experiencing higher yields than in 2020," said AMS chief executive Jolyon Burnett.
"In addition, the final crop figure was positively impacted by new plantings (predominantly in Bundaberg and the Clarence Valley) coming into production earlier than anticipated.
"The quality of the crop this year was very good, with low levels of reject, and nut size returned to a more normal range."
The 2021 crop report is based on factory receipts received by the Australian Macadamia Handlers Association (AMHA) until the end of November (2021).
According to AMS' December 2021 Market Report, the industry has proven resilient during the Covid-19 pandemic, with sales growth recorded in a number of international markets.
"Australian macadamia kernel sales performed very strongly, with all regions experiencing growth on the prior MAT period," the report said.
"South Korea continues to be one of the fastest recovering markets for Australian sales, up 65 per cent. Sales to USA improved with Australia's market share lifting from 5 per cent to 7 per cent. Sales to the domestic market were positive at plus 14 per cent on the year before."