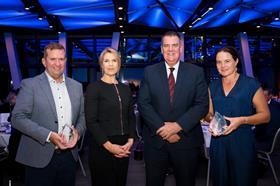 Two leading fresh produce suppliershave beenrecognised at the Queensland Horticulture Export Awards.
Presented by Growcom, the awards were held at the Brisbane Convention and Exhibition Centre last night (8 June), running in tandem with the Hort Connections trade show and conference.
Moffatt Fresh Produce took home the award for Queensland Horticulture Exporter of the Year. Located in the FassifernValley, the company grows carrots and onions for both domestic and export markets.
Moffatt Fresh Produce ships its produce directly to customers in Thailand, Taiwan, Hong Kong, Singapore and Malaysia. The company has been active in supporting a wide range of national industry export activities and collaborates with other producers to grow Australian fresh vegetable exports.
Green ValleyFingerlimeswon the New Exporter Award. Based on the Sunshine Coast, the company is a premium grower of Champagne RedFingerlimes.
At the start of the Covid-19 pandemic, Green ValleyFingerlimesinvested in a new blast chiller and freezer room,enabling the business to diversify into frozenfingerlimeexports. The company currently exports 20 per cent of its production to Singapore. It is looking to break into new markets including Japan and the US, which only accept frozen product.
Growcom chair Belinda Adams said the Queensland Horticulture Export Awardsprovide an opportunity to acknowledge the dedication and determination ofthe state'sexporters.
"The awards were a chance for us to come together andrecognisethe outstandingachievements of our leading growers, and to celebrate the great work that our industry undertakes," said Adams.
"Everyone who was nominated for an award hasdemonstrated their commitment to the industry and made valuable contributions to its ongoing growth and success."