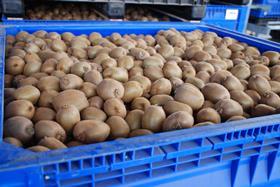 New Zealand post-harvest operator Opotiki Packing and Cool Storage (OPAC) has conditionally approved to an amalgamation with Seeka.
OPAC's 44 shareholders will receive new shares in Seeka at the ratio of 1.48 Seeka shares for every one OPAC share held.
The deal values OPAC's net assets at NZ$33.94m (US$23.65m), withSeeka to assume approximately NZ$25m (US$17m) of debt as part of the acquisition, bringing the total deal to NZ$59m (US$41m).
The offer is subject to a number of conditions, including the approval of both OPAC and Seeka's shareholders.
Headquartered in Opotiki, OPAC delivers orchard and post-harvest services to kiwifruit growers in the Eastern Bay of Plenty, Gisborne, Te Puke and Hawke's Bay.
The move provides Seeka with a presence in all of New Zealand's major kiwifruit growing regions.
"The purchase of OPAC is consistent with our strategy and delivers the Eastern Bay of Plenty kiwifruit growing region to Seeka's operations, a region in which Seeka is already experiencing growth through new orchard developments," said Seeka chairman, Fred Hutchings.
"The transaction is expected to be accretive to shareholders once the combined business is fully integrated. Seeka expects the bigger business to generate material efficiencies, synergy benefits and cost savings for the benefit of all stakeholders."
OPAC chairman, Tony de Farias, said the deal brings together two companies with a long relationship and similar ownership structures.
"Many OPAC shareholders and growers are also shareholders in Seeka," said de Farias. "The board of OPAC recommends the deal to shareholders believing the enterprise value of NZ$59m to be fair, with good opportunities for growth and synergies. The combined group will deliver efficiencies, new technology and grower support."