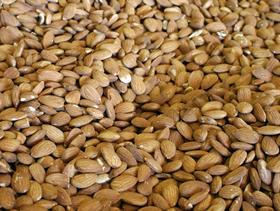 Select Harvests has reported a net profit (after tax) of A$15.1m for the 12 months to 30 September 2021 (FY2021).
The performance was down on the A$25m net profit the Australian almond grower-packer-marketer posted over the corresponding period a year prior (FY2020).
Select Harvests' reported EBITDA of A$40.4m in FY2021 was down from A$57.8m in FY2020, while its operating cashflow increased to A$38.2m, up from A$13.2m in FY2020.
The FY2021 results take into account the company's move to rationalise its business operations.
"In FY2021, Select Harvests made the strategic decision to sell the Lucky and Sunsol brands and conduct a staged closure of the Thomastown production facility (discontinued operations)," according to a release issued to shareholders. "A one-off cost from discontinued operations of A$9.1m has been recognised in the FY2021 accounts."
Select Harvests' 2021 almond crop weighed in at 28,250 tonnes, up 5,000 tonnes on 2020. This volume included production from the company's Piangil orchard acquisition.
"The average yields for both mature and immature orchards once again exceeded industry standards," said Paul Thompson, managing director of Select Harvests. "The recent investment in new inshell sorters, improved orchard practices and favourable market conditions resulted in 28 per cent inshell shipments for the 2021 crop, up from 18 per cent in 2020."
Thompson said market prices for almonds had fluctuated heavily during the FY2021 period.
"Following a record Californian almond crop and an aggressive selling programme, the export almond price dropped to historic low levels," Thompson said. "This drove the demand for almonds up 22 per cent as buyers initially took advantage of low prices.
"As demand increased, Select Harvests was able to take advantage of higher priced positions. While prices recovered somewhat, they have since reduced again due to the impact of global supply chain challenges."
Looking ahead to FY2022, Thompson said the company was experiencing good growing conditions across its orchards, while prices would remain constant for the time being.
"We anticipate that market pricing is unlikely to change until the size of the current US crop is confirmed and there is a better understanding of the impact of the ongoing Californian drought on the 2022 US almond crop," he explained.
"The fundamental drivers of our business remain strong. The demand for almonds, including raw almonds and value-added almond products, continues to increase globally. We remained focused on executing our strategy to maximise yield and price realisation, control cost and mitigate risk where we can.
"Our 2022 marketing campaign will commence once there is more certainty in the market. We are confident market pricing will improve before we commit shipments of our 2022 crop."