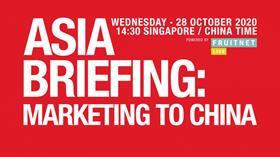 Asia Fruit Logistica ON's series of free, online briefings for the fresh produce business is set to continue on Wednesday at 2:30pm Singapore/China time with an episode on marketing to China post-pandemic.
Asia Briefing: Marketing to China, which is powered by Fruitnet Live, looks at how China's consumer and retail landscape have shifted in the wake of Covid-19.
"While the rest of the world remains in the grip of the pandemic, life in China seems to have largely returned to normal in the last quarter of 2020, and the economy is bouncing back," says Asiafruit's China editor Yuxin Yang. "While Chinese consumers are spending again, what they buy and how they buy are changing post-pandemic."
"In this episode of Asia Briefing, we look at new consumer trends and shifts in consumer behaviour in the post-Covid China market. We also look at how imported fruits are faring and what products are winning Chinese shoppers over. What are the most effective ways to engage with Chinese consumers today?"

China's fresh fruit imports have boomed over the past decade with the explosion of the consumer market. China is now the world's second largest importer of fresh fruit, with imports growing more than 20 per cent last year to almost 6m tonnes. Wayne Prowse of Fresh Intelligence Consulting kicks off the episode with a look at how those import numbers have been tracking since the onset of Covid-19 at the start of this year.

Presenter Chris White of Fruitnet talks to Zespri's marketing director for Greater China, Ng Kok Hwee, and managing director of China Skinny, Mark Tanner, about the use of digital channels and key opinion leaders to reach consumers.

China's leading fresh produce e-tailer Benlai provides an update on how China's recovery has been progressing the past few months. General manager of Benlai's merchandise centre Jason Qia talks to Fruitnet's Jennifer Zhang in Shanghai about the shifts in the consumer market, and the fresh produce market more specifically.

Asia Briefing: Marketing to China wraps up with a look at where the consumer market is heading in China. Jerry Clode of The Solution, a consumer research expert who specialises in interviewing consumers in Chinese, delivers a talk about the trends that have formed and accelerated in shopper behaviour during the pandemic. And he looks at how they will continue to shape the market moving forward. Clode has helped a number of global fresh produce brands launch their products in China, and he talks to Asiafruit's deputy editor Matt Jones about the keys to effective marketing in China post-pandemic.

Clode will also join for a special live Q&A during and after the transmission, when he'll be available to answer audience questions online.

To see Asia Briefing: Marketing to China post-pandemic and to take part in a live Q&A discussion, you will need register on the Asia Fruit LOGISTICA ON website. Just head to the website's Events section and click on Pre-Event Webinars.