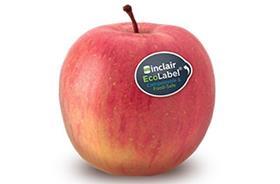 Sinclair will launch its certified compostable EcoLabel in the North American market at next week's PMA Fresh Summit in Anaheim.
The new offering meets the European EN13432:2000 standard for compostable and biodegradable packaging. The full label construction – adhesive, face stock and inks – is certified compostable by TüV Austria under the OK Compost-Industrial and Seedling certification schemes.
The EcoLabel meets EU and US Food and Drug Administration (FDA) regulations, and is supplied on Sinclair EcoLiner backing paper, which is also certified compostable.
"Delivering the Sinclair EcoLabel is a ground-breaking moment for Sinclair and the industry," said Colin Woodward, president and chief executive of Sinclair.
"For a number of years, we have worked tirelessly to provide a certified and fully compostable labelling solution. With this achievement, Sinclair continues to invest in environmentally friendly labelling solutions."
Sinclair will also be showcasing its Large Label V6 system at PMA Fresh Summit, being held on 17-19 October. The innovative system uses hit-on-sight technology to label larger fruits and vegetables conveyed at speeds of up to 400 pieces per minute.
Duncan Jones, marketing manager of Sinclair, said the Large Label V6 allows sizer interface, is height adjustable for a wide variety of fresh produce and offers flexible mounting options on a range of equipment.
"The Large Label V6 innovation provides Sinclair customers with a solution to the rising costs of large produce labelling," explained Duncan Jones, marketing manager of Sinclair. "The automation of labelling with large labels will help producers save time and cost in label application.
"As well as providing a new option in the widest range of fresh produce labelling solutions available, the large label also offers a sustainable branding solution for large fruit and vegetables."