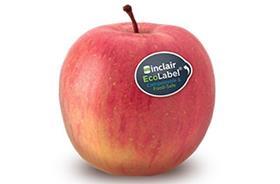 The American Society of Agricultural and Biological Engineers (ASABE) has named Sinclair's EcoLabel and Large Label V6 as winners of the 2020 AE50 Outstanding Innovations Award.
ASABE AE50 awards honour the year's most innovative designs and engineering in the food and agriculture industries.
"We are pleased and excited to be recognized by ASABE," said Sinclair's director of R&D, Scott Howarth. "Sinclair is committed to providing the fresh produce industry with innovative solutions with a focus on sustainability.'
The Sinclair EcoLabel offers fresh produce suppliers a sustainable labelling option that meets the European packaging standard for compostable and biodegradable packaging (EN13432:2000).
The entire label construction – adhesive, face stock and inks – is certified compostable by TüV Austria under OK Compost–Industrial and Seedling certifications.
"As with all Sinclair labels, Sinclair EcoLabel is made from food-safe materials, meeting FDA and EU regulations and is supplied on Sinclair EcoLiner backing paper, which is also certified compostable," Sinclair said in a release.
Sinclair's Large Label V6 (LLV6) system is designed to label larger fruits and vegetables at high speed. Ideal for products such as watermelons, pumpkins and squash, the new LLV6 uses hit-on-sight technology to gently apply labels.
"With high-speed label application from 120 to 400 items per minute, automation of a typically manual labelling process means increased productivity and efficiency," Sinclair said. "With less human intervention on the packing line, there is lower labour involvement and cost as well as a lower risk of contamination of the fresh produce labelling."