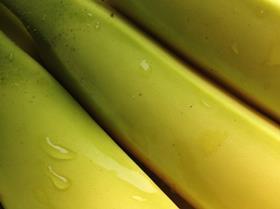 A leading Philippine banana exporter will make a multi-million dollar investment in modifying its production and harvesting practices in a bid to soften the impacts of drought caused by El Niño, according to Business World.
Tagum Agricultural Development (Tadeco) – a division of Anflocor- has budgeted around US$2.5m for the project, which will include upgrading irrigation systems and adjusting the application of fertilisers. The upgrades will be rolled out early next year.
"We need to address the impact of the drought on our irrigation system as well as look for other ways to ensure our productivity," Anthony Valoria, president of Anflocor, told Business World. "We need to get prepared because, based on the latest report, the critical months would be April and May of next year."
The Philippine Atmospheric, Geophysical and Astronomical Services Administration forecasts that over 50 per cent of the country will be exposed to a prolonged dry spell, extending from December 2015 until late June 2016.
Tadeco has developed its response plan based on collaborative discussions and studies between its production, research and development, and engineering teams.
"Together, they devised collective action plans that would mitigate the debilitating effects of the El Niño phenomenon and to hasten recovery," Valoria added.