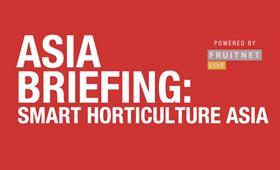 The fresh produce industry is at an important juncture when it comes to technology, according to Smart Horticulture Asia chairman Harrij Schmeitz.
"Smart technology is moving on and the combination of [different] technology is now the next challenge," explained Schmeitz during Asia Briefing: Smart Horticulture Asia, the latest instalment in Asia Fruit Logistica ON's series of free, online briefings for the fresh produce business.
During the briefing, Schmeitz provided a preview of the programme for this year's Smart Horticulture Asia event. The online forum will home in on high-tech horticulture during the three-day Asia Fruit Logistica ON.
This year's Smart Horticulture Asia focuses on 'unmanned gowing concepts' with a different theme to each day of the event, which livestreams from 13:00-15:00hrs Singapore/China time each day on 18-20 November 2020.
'Vertical farming' is the theme for Day One of the forum, with Schmeitz excited by the evolution taking place in this space.
"We see a lot of things happening in vertical farming, which is moving beyond the greenhouse to what I call a controlled growing environment," Schmeitz told Fruitnet's John Hey during the Asia Briefing.
To illustrate his point, Schmeitz highlighted how vertical farming is beginning to take root is retail stores. A video on InFarm was screened during the briefing, showing how the German-based company has successfully pioneered the world's first in-store vertical farm, along with its plans for expansion.
Martin Weber, partner and senior vice president of global business development at InFarm, will deliver a presentation on Day One of the forum.
Robotics to the fore
Later in the briefing, the attention turned to 'autonomous growing and robotic harvesting', the theme for Day Two of Smart Horticulture Asia.
While robotics have already had a transformative impact on the packaging and grading sectors, they're yet to reach the field in the form of robotic harvesting. As Schmeitz pointed out, existing players and new entrants are working hard to make this a reality.
Rui Andres, chief executive of UK-based Fieldworks Robotics, joined the conversation during the briefing, ahead of his presentation on Day Two of Smart Horticulture Asia.
"Horticulture has been behind other industries when it comes to robotics and one of the main reasons is you don't have something to put in one particular place or to install," Andres explained. "It makes agriculture difficult to work with from a robotics point of view but with the introduction of new sensors and cameras with high resolution, we're seeing a lot of companies enter this space.
"As we have seen with Covid-19, food is a critical part of our lives, so we need to ensure growers … find more efficient ways of producing. A way to bring that efficiency, beyond working on different species of plants, is by tackling what can be automatised through robotics or other ways of putting machinery in the fields."
Data is key
The briefing rounded out with a discussion on interoperable data driven supply chains, a topic that comes into focus on Day Three of Smart Horticulture Asia.
Schmeitz made the revelation that the value of a piece of fresh producein the modern-day marketis based on the quality of production data.
"If you don't know where it's grown, then you don't get the certificate for it. If you don't get that then you're not allowed to put a label on it and you're not allowed to ship it to a market, say China, because they want to know where this product has come from," he explained. "Data, data and data is driving our supply chains."
Sharing this data through interoperable systems is becoming increasingly important, according to Schmeitz. He suggested data sharing throughout the supply chain would soon become industry standard, even if there is some initial hesitation.
"Making things interoperable will be a challenge and a fear for fresh produce companies because they are unaware of the unknown," Schmeitz said. "They are unaware of the advantages technology, and especially ICT (information and communications technology), can bring to them."
Stay tuned for more
Fruitnet is set to host more weekly episodes of Asia Briefing each Wednesday at 14:30hrs Singapore/China. Next week's episode (28 October) will be a focus on marketing to China post-pandemic.
Click here to view this week's episode, and past episodes, on demand.