Australian company recognised for Bravo campaign in Thailand
WA Farm Direct has been rewarded for its performance and dedication to apple exports.
The Australian fresh produce company was presented with the Innovation & Global Vision Partner Award from CP Group Thailand earlier this week.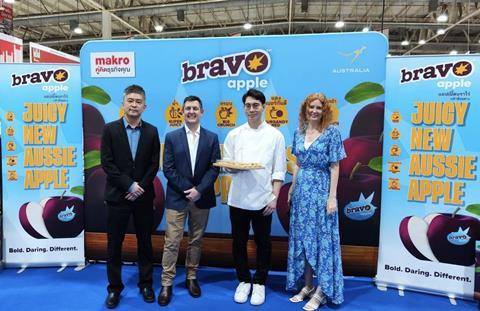 The award recognised WA Farm Direct's work on the 2022 Australian Bravo apple exports programme throughout Thailand.
According to a media release, WA Farm Direct's export programme delivered cutting-edge practices and technological advancements, while also highlighting an ability to align with CP Group's vision for sustainable and efficient food production.
"Australian Bravo apple growers are celebrating a resounding success as their produce gains significant popularity and recognition in Thailand with the prestigious award," the release said. "The fresh, crisp, and flavourful Australian Bravo apples have made a remarkable display in Makro supermarkets throughout Thailand, capturing the taste buds of consumers."
Sean Engelbrecht, commercialisation manager at WA Farm Direct, accepted the award at a ceremony on Monday night (29 May).
"We are honoured to receive this award and excited about launching the new Soluna brand this season with Makro and Lotus supermarkets in Thailand," Engelbrecht said.
Jenny Mercer, managing director of WA Farm Direct, said the award was a team effort.
"This recognition highlights the dedication and hard work of our team, over a number of years, as well as our passion in the horticulture sector. We are proud to partner with CP Group Thailand and contribute to their vision for the future of Australian premium produce in Thailand."