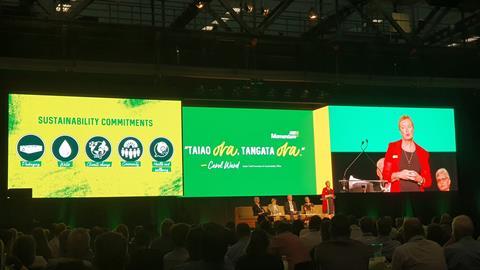 Zespri has committed to making all of its packaging 100 per cent reusable, recyclable or compostable by 2025.
The announcement was one of a number of sustainability goals outlined by the leading kiwifruit marketer today (13 February) at its marquee conference, Momentum 2020: Standing Up and Standing Out, being held in Mount Maunganui.
Zespri has also promised that any of its plastic packaging will be made from at least 30 per cent recycled plastic by 2025, while it will reduce its packaging footprint by 25 per cent per kg of fruit produced by 2030.
Carol Ward, Zespri's chief innovation and sustainability officer, said the packaging announcements are based on the company's belief in "respecting and enhancing" the natural environment, optimising natural resources and fostering health and wellbeing.
"We already have much to be proud of including already having 95 per cent of our packaging used to transport our kiwifruit to market as cardboard, but we realise there's more to do," Ward explained.
"The ambitious targets we've outlined today are therefore about driving our next stage of development and aligning with our purpose, our brand promise and our premium product position."
Ward said a dedicated work programme focused on sustainable packaging has been established to build on actions already undertaken by Zespri, including reducing the weight of liners used in cardboard transport packs, trialling fibre-based solutions for pocket-packs and eliminating all unnecessary packaging.
Outside of packaging, Zespri has also revealed a number of other sustainability commitments, including: becoming carbon positive by 2035; disclosing its climate risks and opportunities by August 2021; developing an industry-wide climate change adaptation plan by December 2022; more effective monitoring of nutrient inputs and losses, as well as its impact on water; and partnering with local communities on healthy lifestyle programmes in all major Zespri markets by 2022.
These commitments reflect what matters most to Zespri's customers and industry partners, according to Ward.
"We already know a lot of the solutions to the challenges our industry faces sit with our growers who have a deep understanding about what works," she explained. "Together, we're continuing to drive innovation to make orchards and supply chains more efficient and sustainable, and our environment healthier."
Ward said Zespri was well placed to deliver on its commitments.
"We've been weaving sustainability into our business practices for many years, and we're really proud to have set ambitious targets which give us clear direction of travel and we can work with our industry partners to play our part in bringing positive change."
Asiafruit journalist Liam O'Callaghan has travelled to Mount Maunganui this week to attend Momentum 2020. Stay up to date with the latest news and key developments from the conference via his Twitter account@liamfruitnet.