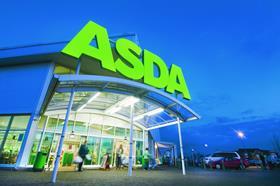 Asda has announced it is doubling the number of stores stocking its budget ranges following criticism that it isn't doing enough to shield its customers from inflation.
Under pressure from the discounters and Tesco – which recently announced new Clubcard offers, including 30 per cent off selected fruit and veg – Asda said it was reacting to mounting concerns around inflation and energy prices.
The retailer confirmed that from 1 March it would stock its full Smart Price and Farm Stores ranges in all 581 of its food stores as well as online.
The supermarket currently stocks 150 Smart Price and 50 Farm Stores products in 300 stores.
Asda has already taken steps to make its value ranges more accessible by increasing the number of products available online. The supermarket has added 100 Smart Price and Farm Stores products to its website this week, increasing the total online range to 187 products. This will rise to 200 by the end of February.
The grocery chain's move follows criticism from food writer and anti-poverty campaigner Jack Monroe. She complained that the cost of everyday essentials was increasing in price ahead of official inflation rates, noting that several items from Asda's Smart Price range were no longer widely available after the supermarket streamlined its offer.
She pointed out that the cost of food staples, such as cheap pasta, rice and tinned tomatoes, is increasing faster than other products, and criticised Asda for discontinuing budget versions of these products in some stores and online.
Meg Farren, Asda's chief customer officer, said:"We want to help our customers' budgets stretch further and have taken on board the comments about the availability of our Smart Price range made by Jack Monroe. We are taking steps to put our full Smart Price and Farm Stores ranges in store and online to make these products as accessible as possible."