Tom Seagrief returns to the company ahead of its full-scale production in 2024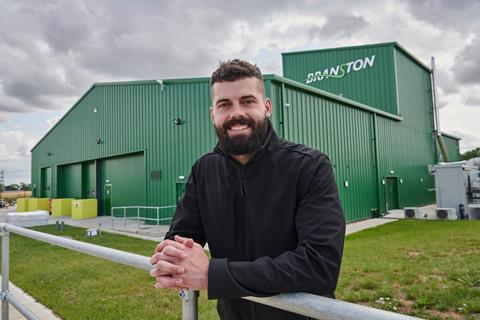 Branston has appointed a new general manager for its protein extraction facility, in preparation for full-scale production and commercialisation of potato protein in early 2024.
Tom Seagrief returns to the company, having joined on its graduate programme over a decade ago. After placements in technical and finance, Seagrief gained experience in operations before being promoted to managerial roles within Branston's site services and raw materials departments.
He has since also worked as a space planning officer at the University of Lincoln and in further managerial roles in production and operations at wholegrain food brand Jordans Dorset Ryvita.
Seagrief said: "I'm excited to be rejoining Branston to take on the challenge of leading the new protein extraction facility and bringing our UK-grown and processed potato protein to market. I'm hungry to keep developing and progressing in my career, and Branston has enabled me to do that through its aspirational culture and mission to continually innovate.
"This is a hugely important time for us, with Branston investing in driving sustainable change and better industry practices.
"The world is our oyster when it comes to the potential uses of potato protein, with the market for plant-based foods continuing to grow. I am thrilled to be part of the Branston journey as we fine tune and scale up our operations to meet the demand for UK-grown functional protein."
The appointment follows Branston's multi-million pound investment into its protein factory, which is described as the first of its kind in the UK, in partnership with RootExtracts Ltd.
Seagrief will be working with his team to optimise the technologies within the factory, converting large volumes of the low-value by-product into a high-quality functional protein.
Jim Windle, managing director of Branston, said: "We're delighted to welcome Tom back to Branston to head up our protein factory at this exciting time. His production knowledge and experience with high-care food factory environments will be invaluable. Tom has already fully embraced our ongoing mission to utilise all of the crops we handle, and to get the best quality, and most sustainable return for the end-to-end supply chain from every single tuber."