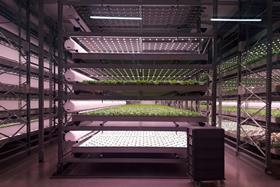 Leading UK Vertical Farm specialist CambridgeHOK has pledged to lead 'the next evolution of the industry' having launched a new 'concept to completion' package to provide investors and retailers with their own fully automated indoor growing facilities.
With 10 years' experience of building and operating Vertical Farms both in the UK and Europe, the business says the market is now ready for large-scale commercial facilities to help retailers take control of supplies in uncertain times.
As a result it has developed detailed financial costing models for fully-automated facilities of 5,000sq metres upwards in which crops such as lettuce, rocket and other salad types can be grown to the highest standards, in ideal and consistent conditions, unaffected by the weather.
The package offered includes advice and support from a team of highly-experienced experts in indoor growing, climate control, engineering, automation and efficient energy provision at CambridgeHOK, leading clients from initial planning and costing to building and operating facilities.
"When we talk about a total solution, we mean providing a fully working business, proven to work and backed by accurate and reliable return on investment projections," said Patrick Harte, joint managing director of CambridgeHOK.
"We think of everything from germination to propagation, movement and climate control grow systems through to packing, back office, plant rooms and electrical infrastructure.
"By offering all of our in-house expertise and knowledge, we can provide a turnkey solution, all under one roof. We can even build the building if someone wanted us to."
Automation and scalability are key to developing bigger vertical farms
Harte says automation and scalability are the two key factors behind the company's new concept model, and that is why CambridgeHOK has partnered with award-winning automated warehousing specialist SEC Group on the project.
"For our concept vertical farm, you are looking at an eight-figure investment, so it is for people who are really serious about investing in the future of the industry, and people who can see the future size and scale of our offering," he said.
"The concept can be developed modularly, and so whilst its 5,500 square metres at first, you could easily roll that out and gain economies of scale over time. It's not just an investment for today, it's one that you can scale up and invest into in multiple rounds.
"Automation is vital at this size firstly due to economics and ensuring an efficient production system, and secondly to manage the complexity and the number of movements per day effectively. Highly automated, highly organised and highly computerised systems take vertical farming to the next scale of production.
"With advances in energy today, there are also numerous ways of providing clean, green electricity which we are able to assist with."
Harry Watts, managing director of SEC Group's storage division, said, "Our expertise in automation means we can combine proven technology with our data driven design expertise.
"This approach allows us to develop digitally twinned simulations prior to build, orchestrating engineering and operational elements in a virtual environment before building on site.
"This combination of digital design and automation, alongside Cambridge HOK's extensive Vertical Farming expertise, provides a truly scalable concept with clearly traceable modular design that allows extensions to be easily connected over time."
Detailed financial costing model sets out costs and return on investment
Steven Edwards, Vertical Farming Manager at CambridgeHOK, believes investors and retailers are now keen to take control and avoid supply chain issues by producing more home-grown goods.
"Major UK retailers and food service providers are very conscious of where the key consumer needs are and, where they are sourcing it from how much they are willing to pay for it in order to sell," he said.
"Supply chain issues, which we have increasingly witnessed this year, have resulted in an increased focus on UK grown and supplied source of produce. The UK food industry is beginning to look at Vertical Farming in terms of embracing it as a route forward and an opportunity to overcome these challenges.
"Our concept helps both producers and growers, but also investors who want to support those businesses. It helps all parties have a safe, reliable and deliverable system underpinned by knowledge, data and financial support.
"The financial cost model considers all technical and electrical load requirements, taking into account the throughput of produce, the volume of produce and handling and movement to calculate how much it will cost to build and operate. It provides the annual expected profitability, the target price people can look to sell produce for and their return on investment. It's a real step forward."
Global consortium brings international expertise and experience to offering
Earlier this year, CambridgeHOK became part of the global horticultural consortium Atrium Agri, a group of companies who are leaders in their own specialist field of horticulture, ensuring that collectively, members can offer unparalleled levels of technical skill.
Tim Haworth, Head of Technical Horticulture at the business, has worked in vertical farm research and development for 10 years, and says that knowledge, alongside CambridgeHOK's own experience, is vital.
"Our team offers a wealth of knowledge and experience in this industry given we have been working in vertical farming at varying scales for 10 years," he said.
"Joining Atrium Agri has brought further potential. They certainly recognised that we are very much at the forefront of vertical farming, and being part of the consortium provides more opportunity to develop and expand vertical farming not just within the UK, but across Europe.
"Our service is completely turnkey. We bring it all together so ultimately our customers buy a working facility, managed and coordinated by our team, providing one single point of contact who handles the specification, the programme of the build, and then helps hold a customer's hand through learning to use the facility.
"All those qualities make us stand out, and are why we have been able to reach the point of launching this exciting breakthrough for the industry."

CambridgeHOK is a forward-thinking engineering, energy and construction company specialising in the design and development of automated vertical farming facilities and commercial glasshouses. The business offers a complete turnkey solution from consultation and project conceptualisation, design and pricing to eventual construction, commissioning and handover. It is part of the Atrium Agri, a global consortium of horticultural specialist companies who lead in their field of experience.

The SEC Group is one of the UK's leading warehouse storage solution, interior fit-out and cleanroom providers. Through a combination of operational analysis, data driven design and industry experience, the SEC Group has created award-winning solutions for a broad range of clients throughout the UK.