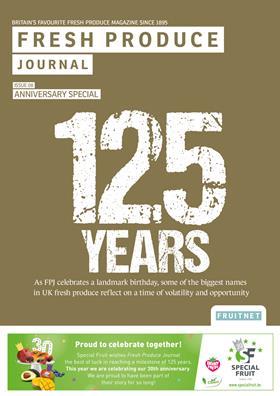 The latest edition ofFresh Produce Journal, ourAnniversary Special,is now available for subscribers to read on the new FPJ app.
Download the app to your smartphone or tablet from theApp StoreorGoogle Play,or read the issue on yourdesktop. The app isfree to download, and anyone can access our news feed, with the latest fresh produce stories, video and podcasts.
We are making this special issue of the magazine available to viewfor FREEon our app for a limited period. Thereafter, we suggest you subscribe to FPJ for just £125 a year. This includes 10 print copies of the magazine and digital access for a year.
Celebrating 125 years at the heart of the trade
In our Anniversary Special, we celebrate 125 proud years covering the UK fruit and vegetable sector.
Some of the biggest names in UK fresh produce share their expert opinions on the big issues facing the trade, from seasonal labour to the coronavirus pandemic.
There are no fewer than eight opinion pieces in this issue, from the likes of Chris Mack and Nicholas Marston, each with an interesting and forthright take on the state of the sector and what is needed to help it thrive in these unprecedented times.
For example, Tim O'Malley asksif now is the right time to invest in your business, despite all the current volatility?
This year is a special one for Poupart Imports which, like FPJ, is celebrating a 125thanniversary of its own. In a special interview, managing directors from across the Argent Foods Group, Poupart Group and BerryWorld Group reflect on the fresh produce giant's remarkable growth and development.
In addition,Luisa Cheshire catches up with some of the leading lights in Asia to hear how the industry is coping with the challenges of Covid-19, with reports on UK cherry exports to Hong Kong.
John Giles of Promar Internationallooks back at how the fresh produce business has evolved over the past 25 years and what comes next.
AndMichael Barker speaks to Caroline Drummond, chief executive of LEAF, about the organisation's new strategy and her own future.
We also round up the biggest stories from the first-ever virtual edition of FPJ Live, which we broadcast from our London studio on 6 October. You can watch all of the action from the day againhere.