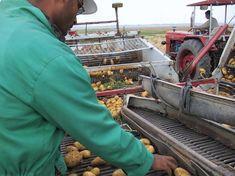 One of the great ancient civilisations, the Egyptians first settled along the fertile banks of the River Nile which today are still the country's agricultural heartland.
Yet arable land accounts for as little as three per cent in this vast desert landscape which is constantly exposed to the effects of harsh climatic conditions - agricultural land is being lost to windblown sands, fertile soil is becoming more salinated below the Aswan High Dam, the use of agricultural pesticides allegedly creates water pollution problems and natural water supply away from the Nile is limited.
Egypt has improved its economic performance in the last decade, but since September 11, 2001 tourist numbers have dropped and so has revenue from the Suez Canal toll. Furthermore, regular devaluations of the Egyptian pound in the past year, mean that the republic must rely on its more traditional sectors, adding pressure on the horticulture sector to increase its performance and improve global exports.
Agriculture contributes 17 per cent to GDP and employs 29 per cent of the Egyptian work force. It is understandable why such importance is placed on the future of horticultural growth. Local groups such as the Horticultural Export Improvement Association (HEIA), aim to promote the development of fresh produce export markets. In January 2004, the group set out its long-term goals for horticultural exports - it wants revenues to amount to $8 billion of which 20 per cent is expected to come from organic produce. Other goals include the enforcement of grower compliance with international quality standards, the establishment of an Egypt brand and further improvements to marketing and management across farms, in order to maintain the country's international reputation for good quality vegetables.
The government is very supportive of these plans. In 2001, Egypt signed an association agreement treaty with the EU and the conditions relating to agriculture have been effective since January 2004. Now Egyptian fresh produce can enjoy a longer export season into 15 countries as a result of an increase in both volume and seasonal quotas.
According to counsellor Abdel Rahman from the Egyptian embassy in London, the unique selling point of Egyptian vegetables is their consistent high quality. However, there is a need to improve general market awareness regarding Egypt's ability to supply vegetables and its capacity for growth. The UK is viewed as an important trading partner as it is a big importer of vegetables. "The majority of the UK's fresh produce is imported, inspiring Egyptian growers to expand their vegetable crops. Our limited UK market penetration is due to the low level of consumer awareness and the lack of coordination among our exporters. Generally our senders tend to compete with each other rather than finding export synergies," he says.
The director of Blue Nile exporters, Hisham El Meleigai, agrees that the sector is held back because the majority of growers are not on a level playing field in terms of systems, processes and operations. "We need a mass body to provide easier entry to markets, but many growers do not have mature enough operations - setting up a consortium is difficult. Many growers view these associations as threatening rather than beneficial. I would like to see the vegetable sector mimic the South African example with its known brand Cape, making all their produce easily recognisable. A mother brand is something I would support".
In the last two years there have been major improvements to infrastructure, especially with a newly-built refrigerated perishable terminal at Cairo airport. "The HEIA-backed cold-storage airport facility will save transport time from farm to store" Rahman says. "The national carrier now offers spare capacity to growers and extra horticulture cargo charters are flying into Stansted regularly. As long as the quality keeps improving, we can now increase volumes brought into the UK." Many producers agree that the new development in Egypt's export facilities has greatly improved harvesting and packing. The process of harvest to export has changed completely and many see that value is now added by placing importance on the pre-cooling and last-chilling steps.
However, not all Egyptian businesses have met with EurepGAP requirements and only 60 companies have fully adopted the standards into their business practices.
One of these is Michaels Trading, a certified producer-exporter, owned by Moheb Louis Tadros. In his opinion, growers are held back by the slow take up of EurepGAP standards. The Egyptian Producers Consortium Ltd, a major potato importer in the UK, has already experienced the benefits of certification, gaining UK market share without boosting production. Dr Ihab Tadros explains: "In the last few years, our facilities [in Egypt] have been upgraded substantially to satisfy the retail market and meet EurepGAP standards. We now provide retailers with pre-harvest pesticide lists of what we propose to give the seedlings as well as post-harvest lists with what actually was applied. We realise that product traceablity and testing are important to customers."
This opinion is further shared by Blue Nile's El Meleigai, who has 65 per cent of his 3,000 farming acres already EurepGAP certified and plans for all acreage to be approved within six months. He believes that, "certifications are good as they keep the cowboys away."
Although growers' businesses are limited by the slow implementation of EurepGAP guidelines and an overall lack of operations experience, they show initiative in improving the efficiency and variety of their crop production. Louis Tadros says: "I plan to increase the variety of product we sell, rather than supply more volume of the same crop. The market is already at capacity with traditional produce such as onions and green beans. The new crops will include asparagus, runner beans and sugar snaps and I also will bring to the market vegetables from countries such as Thailand (baby corn) to fill the seasonal mismatch."
Blue Nile is also expanding into continental Europe with the aim of increasing market share. "The boost in production from the farms will go to Northern Europe - it is more difficult to gain extra share of the UK vegetable demand as it requires us to drop prices rather than increase volumes. We also want to reduce our reliance on vegetables alone and are moving into grapes to extend the supply season," El Meleigai says.
"The improved efficiency in sea freight means relying less on air freight and so far all sea shipments to the UK have arrived successfully. Packaging durability is now up to 14 days and we can compete with neighbouring countries such as Morocco, which use cheaper land transportation, since harvesting and packing are better.
"We ensure the company maintains its position as one of the largest exporters - the packhouse is modernised every three years and we are focusing on improvements to technical aspects of the group such as testing, quality assurance, certification and staff training. We have a staff exchange program with Kent-based agent, Bomfords, so my staff have exposure to international practices."
Organic vegetable production is also gaining in popularity and several farms are beginning to experiment in small volumes. Egypt is ideal to grow organically with virgin deserts allowing immediate planting. Exporter Hashim El Nagger is converting desert to farmland - and has 3,500 hectares and plans to own 10,000ha within the next five years.
The game plan is to improve the brightness and quality of its potato crops by growing both conventional and organic crops. Some 30ha of farm land will be dedicated to the trial organic potato crop and for now will be purely an experiment on the agronomy side.
On the pyramid of Cheops, it is declared in hieroglyphics that the sum of 1,600 talents of silver was spent on radishes, leeks and onions for the workmen. The importance of the Nile Valley, the virgin desert-soil, the hot summers and moderate winters all contribute to the significance horticulture has played in the ancient and modern lives of Egyptian vegetable growers.
Egypt is blessed with the resources and conditions to develop a profitable vegetable export industry, especially to complement seasonal availability of UK supplies.
The government and producer associations are pushing the development of horticultural facilities and products. The next step is to change the mentality of Egyptian growers so that they can trust each others systems, making them want to work together under a unified banner.
TERMINAL EFFICIENCY
Located in Cairo International airport, the refrigerated perishable terminal was inaugurated in July 2003. The multi-million Egyptian-pound facility was designed to minimise handling activity of fresh produce while in transit. It is fully chilled and assists suppliers in reaching export markets more quickly and maintains produce freshness, as produce is handled in a controlled environment until ready for dispatch to retailers and wholesalers. The capacity of the cooling facility is 180 tonnes with a six-hour rotation for four daily planes. The introduction of the terminal should reduce export losses by 40 per cent, improve the quality of produce resulting in higher revenues, and at the same time increase cargo dispatch efficiency and reduce freight costs.
GET COOL, FAST, WITH PIRIE
A new Scottish mobile cooling unit, RapiCool, will soon be available to small and medium sized Egyptian farms. Refrigeration specialist, FJ Pirie & Co, was approached by the Egyptian Ministry of Agriculture to design a cooling process to reduce the large quantities of crops lost post-harvest because of inadequate cooling. Frank Pirie, chairman, met the design specifications and has developed a system that is able to cool three tonnes of produce from 30°C to 0°C in three hours. The mobile rapid cooler will increase the shelf life of the harvest leading to a greater quantity of export volumes.
"The challenge was to manufacture a specialised container at an affordable price," said Pirie. "To overcome the potentially high costs, we have linked up with an Egyptian manufacturer of insulated boxes, who will produce the front store box, while the specialised cooling engine will be made in the UK. The mobile unit will be mounted in Egypt and be powered by a diesel generator unit so that crops can be cooled at harvest, removing the field heat which can reach more than 45°C in that region."