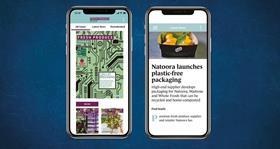 We are excited to officially launch the new FPJ app, offering the fresh produce industry the best way to keep informed, and enjoy our magazines in new user-friendly digital formats.
Download the app onto your smartphone or tablet from theApp StoreorGoogle Play. It's free to download and anyone can access our news feed, with the latest fresh produce stories, video and podcasts.
Times have changed significantly since we started work on the app last year, and continue to move fast as the coronavirus pandemic unravels. Through the app we will do our small bit by helping you keep abreast of the latest industry developments, and champion the incredible work it is doing in distributing fresh, healthy food across the UK under difficult circumstances.
In order to do this, we teamed up with the same people behind the mobile editions of The Economist, The Evening Standard, GQ, Motorsport and many other top publications.
Subscribers to FPJ magazine can simply enter their FPJ subscription details to gain access to the digital editions of the magazine. Contactsubscriptions@fruitnet.comfor any inquiries or assistance.
Non-subscribers can purchase different subscription bundles on the app, or make one-off purchases of selected magazines. All purchases will be charged to your iTunes or Google Play accounts.
We are offering a free two-week trial to kick things off, with users given 14 days' access to all app content.
So give it a try! Download the app here, or find it on the App Store or Google Play. Our app is the latest innovation from FPJ. We were the first to print in the 1890s, the first to desktop publishing in the mid-1980s, and the first with a smartphone app in 2020. You don't want to miss this.