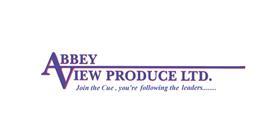 Abbey View Produce is seeking a passionate, self-driven and experienced fresh produce nursery manager for an exciting and unique opportunity to lead a newly built state-of-the-art nursery, based in Bury St Edmunds, Suffolk, UK.
About Us
Abbey View Produce is a family-run business which has its roots in the old Covent Garden Market. Formerly known as George Coleman (Lea Valley), it's a company with more than 200 years' history.
Over recent years Abbey View Produce has invested in a new state-of-the-art packhouse which was built to cover the packing needs for major multiples and other Abbey View Produce customers. The packhouse was extended in 2013 to three times its original size, to align with the company's continuous growth and business strategy, a key part of which is the acquisition of a new greenhouse in Bury St Edmunds that covers 12 hectares.
The Role
As nursery manager, you will have responsibility for all aspects of the day-to-day running, delivery and leadership of the site, including but not limited to;
• Plant performance, product quality, inventory control, costs, maintaining budgets, KPI targets, productivity, distribution, health & safety and day-to-day colleague disciplines.
• You will ensure ongoing compliance with Abbey View Produce's quality, hygiene, and food safety standards expectations.
• You will implement and maintain policies and procedures for staff training, management, inventory, distribution and logistics, hygiene, product quality and the overall safety of the facility and its personnel (as per the site safety plan).
• Oversee greenhouse block supervisors, site admin, glasshouse operatives and labour provider operatives.
• To maximise yields and providing timely resolutions to product quality, cost queries and productivity issues, you will collaborate closely with the Abbey View Produce regional senior grower.
• To accomplish your set objectives, you will evaluate, develop and devise implantation plans for all current procedures and policies.
• You provide work direction, resolving problems and you set deadlines to ensure timely completion of daily tasks.
• Monitor and analyse costs, prepares and/or maintain budgets and have direct oversight of the nursery P&L.
• Maintain and review quality reports/statistics to ensure consistent, quality finished goods.
• Communicate with Abbey View Produce stock control, operations and HR departments, ensuring all issues are speedily resolved, supporting the continued company growth.
• Promote a culture of high performance and continuous improvement that values learning and a commitment to quality.
• Mentor and develops staff using a supportive and collaborative approach; assign accountabilities; set objectives; establish priorities; and monitor and evaluates results in line with the business strategy.
• Comply with all legislation, business regulations, environmental and safety programmes.
Qualifications and Skills
Essential
• 5+ years' experience in horticulture or greenhouse management.
• Good people skills and experience in managing teams.
• Ability to work under pressure and think on your feet when dealing with difficult and unpredictable situations.
• Excellent communication skills.
• Ability to work in hot and humid environments.
• Ambition and long-term commitment.
• Ability to undertake manual tasks as the role requires.
• Strong management skills, preferably gained within the horticulture Industry.
• Computer literacy.
• Good literacy and numeracy skills.
• Full, clean driving licence.
Desirable
• Certificate in Competence of the Safe Use of Chemicals (PA1, PA6).
• Competence and understanding of automated 'Priva' climate control systems and irrigation systems.
• Knowledge of advanced growing techniques and developing technologies including lighting, robotics etc.
• Institute of Occupational Safety and Health Certificate or other health and safety qualification.
• First Aid certification.
• Food safety experience (Hazard Analysis and Critical Control Point (HACCP).
• Registered with the National Register of Spray Operators.
• Proven track record in coordinating audits in a greenhouse environment.
• Qualification in horticulture.
• Forklift licence.
• Experience in growing peppers using hydroponics.
• Experience in working with automated systems.
Compensation
• Salary is competitive in accordance with experience.
• Local accommodation may be available for successful candidates who are not local to the area.
• This is a fantastic opportunity for those who have worked in a similar position and are now looking for the new challenge.
• To find out more, please send your CV to recruitment@abbeyviewproduce.co.uk.