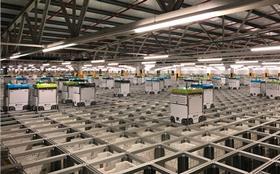 Ocado has unveiled what is calls 'one of the most significant steps forward in technology' in its history.
Announcing the latest technology supporting its Ocado Smart Platform, the grocery and tech specialist said its new equipment would allow partners to meet the full range of customer missions faster and with lower operating costs, as well as enabling short lead time deliveries for a larger proportion of sales, and drive faster speed to market.
Range of innovations
New innovations include the world's lightest and most efficient grocery fulfilment bot; dramatically lighter grids; robotic arms that pick groceries directly from the grid - a solution that automates the most physically demanding job in a Customer Fulfilment Centre; the world's first virtual distribution centre; a capability for short lead time deliveries; and a capability for powering retailers' own storefronts with the intelligence behind the Ocado Smart Platform.
These innovations 'will allow Ocado Group and our OSP partners to install the platform much faster and in simpler, highly optimised, more cost-effective buildings, requiring lower capex, with a faster time to go live,' the company said.
In addition, partners will be able to achieve greater throughput from the same or smaller footprint, lower labour costs, and address labour shortage challenges.
Ocado said these advanced capabilities mean that OSP partners will be able to 'offer their customers an even better online grocery proposition across choice, short lead times, and value, with the best economics, thanks to the structural and systemic advantage that the reimagined OSP gives them.'
'For Ocado Group, Ocado Re:Imagined offers higher returns from lower capital costs and operating expenses, an even greater Total Addressable Market available to the business, and the expectation of an acceleration in the sign-up of new partnerships in the years to come, in addition to further orders from existing OSP partners,' it added.