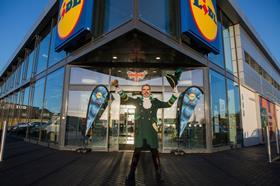 Lidl GB was the fastest growing bricks and mortar retailer for the second year running during the Christmas period, as sales at the discounter increased +2.6 per cent YoY and +21 per cent on a two-year basis, the company said.
The discounter also achieved record footfall levels in the week leading up to Christmas, with footfall up +14 per cent YoY on its busiest day - the 23 December - while customers switched £21m of spend to Lidl GB across December.
Christian Härtnagel, Lidl GB CEO said: "Despite ongoing challenges with the pandemic, customers continued to find ways to celebrate this Christmas. Our high quality, low priced festive ranges proved a hit, helping us achieve a record Christmas with footfall and sales beating the previous two years.
"As ever, none of what we do would be possible without the hard work of our colleagues across the country and our suppliers. I cannot thank them enough for their efforts during this period as we continued to navigate the industry challenges to provide for our customers, ensuring all stores were well stocked.
"As inflation continues to rise, I want to reassure each and every one of our customers that we remain resolute in our promise of being the destination for the lowest grocery prices in the market."
For the fourth year in a row, Lidl GB ran its food donation programme in the month of December and on Christmas Eve. Stores supported local charities and ended the year with nearly 5.5m meals donated. The products were donated via Lidl's Feed it Back scheme in partnership with Neighbourly.
In December Lidl opened eight new stores across the country, and its store expansion plans also continue at pace with a number sites opening in January, including in London and Liverpool.