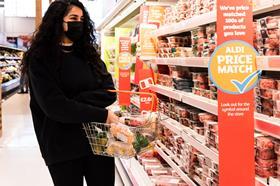 Sainsbury's has reported strong Christmas sales, prompting it to upgrade its profits forecast and promise further price reductions.
Britain's second-largest supermarket now expects pre-tax profit of at least £720 million in the year to 31 March 2022. This is nine per cent higher than the retailer's previous forecast of £660 million and more than twice as much as the £356m Sainsbury's made last year.
The retailer hailed the success of its Aldi price match Christmas campaign which saw festive vegetables priced atonly 19p a pack.
Sainsbury's announcedit would nowmatch Aldi prices on 150 of its highest-volume fresh food products and put over 2,000 lines into its Price Lock promise not to increase prices for at least eight weeks.
Grocery sales for the Christmas period (the six weeks to 8 January) were up 0.1 per cent on the year before and 6.8 per cent higher than in 2019/20 before the pandemic began.
Across the whole third quarter (the 16 weeks to 8 January) grocery sales dipped by 1.1 per cent year-on-year but were up 6.6 per cent compared to 2019/20.
Strong sales of premium products boosted Christmas revenue, with record sales of Champagne and sparkling wines.
New Taste the Difference products in party food, desserts, wines and spirits were popular, according to the retailer, and Taste the Difference was its fastest-growing product tier with sales up 13 per cent over two years in the six weeks to 8 January.
Sainsbury's launched over 600 new products in Q3,of which 300 were new Christmas products, as part of a plan to triple levels of product innovation.
Online sales were nearly twice as high as two years ago, with Sainsbury's improving delivery availability and customer satisfaction scores.
Online grocery sales decreased by 16.5 per cent year on year in Q3 but were up 92 per cent compared to 2019/20.
Sainsbury's chief executive Simon Roberts said:"I am really pleased with how we delivered for customers this Christmas. More people ate at home and our significant investment in value, innovation and service led to market share growth. At the same time, we are pleased to increase profit guidance for the full year.
"The backdrop was challenging, and our teams worked hard throughout the year to make sure we had all of the products everyone wanted. Our suppliers did a great job in challenging conditions throughout the quarter, and I thank them for all their support for our business.
"We were bold in our plan for product, value, innovation and service and delivered volume growth ahead of the market. We delivered our best value food this Christmas, launched our lowest ever priced Christmas dinner heading into the key Christmas shopping week and we had our biggest ever New Year.
"Customers also treated themselves and new Taste the Difference products in party food, desserts, wines and spirits were really popular and we had record sales of champagne and sparkling wines.