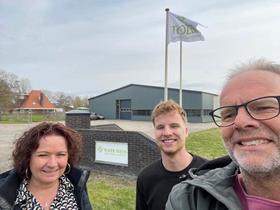 UK-headquartered seed company Tozer has announced that its new Dutch subsidiary is now completely operational.
Tozer Seeds Netherlands (TSN) was set up in April 2021 to mitigate the delays and uncertainties with exports due to Brexit, and for the past year it has supplied vegetable seed across Europe. It will now be able to provide all services from its base in Andijk.
The town is in the heart of the Netherlands' 'Seed Valley, an area just 50 km north of Amsterdam, where many seed and seed service companies are based within a 15-kilometre radius. This makes it an ideal location for TSN's office and warehouse space.
TSN is the second Tozer company established in mainland Europe, after Tozer Iberica, which was formed in 2004. Tozer's headquarters are in the UK and Tozer Seeds America is based in California.
Marcel Bloemendaal, the company's Northern Europe sales director, heads up the new business, having worked in horticulture all his life.
He joined Tozer a year ago and has grown his team over the last year. It now includes office manager Ellen Schaminée, who joins TSN with 30 years' experience in the seed sector.
Bloemendaal said: "It's been a busy and hectic year, but we are happy to say that we are fully up and running. We look forward to supporting our existing customers and forging relationships with new ones."
Tozer MD Steven Winterbottom added: "This marks a milestone for Tozer as it cements its standing in Europe. We are committed to our customers across the continent.
"TSN offers an excellent and resilient service. We are indebted to our Dutch colleagues who have worked so hard to establish the business and to manage the logistics, and we look forward to growing our business together.
"We are sure that not only will our existing customers be better served by the creation of TSN but that it will enable us to reach out to new ones throughout Europe."