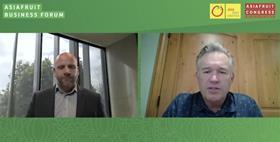 Agri-tech investors aren't shying away from Asia, with China and India the region's two main magnets for funding.
That was one of the key takeaways from the opening day of Asiafruit Business Forum, which streamed live today (28 September) as part of Asiafruit Congress.
Hosted by Asiafruit Magazine, the Business Forum provided insights and advice on a range of subjects to help fresh produce companies grow their business.
'Fresh Tech' was the theme for today's session, which featured presentations from industry experts on everything from how to use data more effectively to packhouse automation and modified atmosphere shipping.
The session got underway with an overview of Asia's agri-tech landscape from Jack Ellis, media and research lead – Asia Pacific at venture capital firm AgFunder.
Ellis said US$7.9bn was invested in agri-tech ventures worldwide in 2020, a 41 per cent rise on 2019.
North America continues to be the primary market for this funding, with over US$4bn invested in US-based ag-tech ventures in 2020.
Ellis said interest in Asia-based ventures is on the rise, with China (US$341m) and India (US$290m) attracting the third and fourth most funding by country in 2020.
"Asia has steadily grown in terms of deal numbers [per annum], outstripping Europe for the first time in 2017. It [Asia] has bested Euroupe in terms of deals closed in the past two years as well," Ellis explained.
"When it comes to dollars invested, Europe is ahead of the curve a little bit more [compared to Asia]. In Europe, we're seeing more money going to fewer companies that are at a later stage of their development."
"Here in Asia, we're still a younger market, so we're seeing a larger number of companies at an earlier stage getting smaller investments."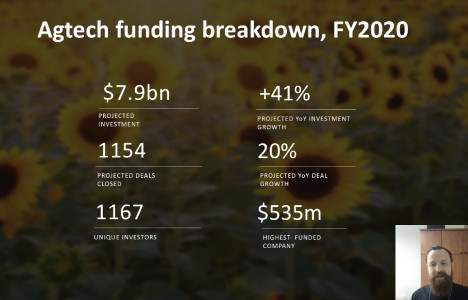 Start with data
Later in the session, Adam Cuming, chief executive of New Zealand-based Radford Software, discussed how fresh produce companies are using data more effectively in their operations.
Cuming offered viewers some practical advice when it comes to navigating the data minefield.
"Don't be too distracted by the buzz words or rush to things like machine learning," he explained. "Walk before you can run.
"Start with data, gather it, standardise it, generate reporting from it, make those decisions and, importantly, continuously improve the collection of that data and the weighting around it."
Elsewhere on the programme, Tomra Fresh Food's head of innovation, James French, presented a case study on Lucai, an artificial intelligence-powered solution that is revolutionising blueberry grading, while Ah Huat Goh of Daikin Reefer underlined the benefits of Active CA in long-haul transport.
An automated future
The opening day rounded out with a panel discussion on the future of post-harvest automation. Hosted by Jamie Lunam of Jenkins Freshpac Systems, the panel featured Bret Pittsinger of Van Doren Sales, Michael Williams of J-Tech Systems and Cameron McInnes of Global Pac Technologies.
Williams discussed the topic through the lens of the Australian market, where J-Tech is a leading supplier of post-harvest solutions. He said labour replacement was a key driver behind the push towards automation.
With post-harvest duties traditionally performed by a seasonal workforce in Australia, which has predominantly consisted of working holidaymakers, packers are now looking to reliable, end-to-end automated solutions as an alternative.
"The common theme that's coming through is obviously reducing labour, and within this, making sure that reducing labour doesn't affect the finished product,"Williams said.
"With Covid-19, we're obviously short on those backpacker workers here in Australia, so there's been a huge push towards automation and particularly end-to-end solutions.
"The big wins are coming from end-to-end solutions, which incorporate everything from bin tipping when the fruit arrives to the palletisation of packed cartons at the other end. It's about having complete solutions, whereas in the past there were lots of facilities that would have partial solutions."
The Asiafruit Business Forum continues on 29 September. The attention turns to 'Retail and Consumers' on day two, with the programme featuring presentations from experts in fresh produce marketing and branding.