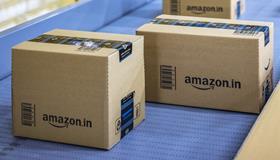 Amazon India has announced an initiative that will enable kiranas and small, offline retailers to use its platform to sell their products and earn additional income.
This announcement follows Amazon owner Jeff Bezos' commitment in January that the company will invest US$1bn in digitising small and medium businesses in India, allowing them to sell and operate online.
It also comes just days after Facebook partnered with Reliance Retail to connect kiranas with WhatsApp.
Amazon had been trialing the 'Local Shops on Amazon' programme over the past six months with more than 5,000 offline retailers.
However, the important role the local retailers had been playing during the coronavirus (Covid-19) pandemic caused Amazon to scale up the programme and pledge US$1.3m to assist the process.
Gopal Pillai, vice president of Amazon India Marketplace, said within 24 hours of the announcement, Amazon had more than 1,000 registration requests.
"Local shops can play a bigger role during this time of need by serving customer needs while maintaining social distancing," Pillai said.
"They can also jumpstart their own livelihood post the unprecedented disruption and open up a long-term opportunity for themselves."
Amazon India said the programme will help consumers connect with their local retailers and it will help shopkeepers supplement their footfalls with a digital presence and expand beyond their normal catchment.
Additionally, shops can sign up for other programmes to earn additional income including the 'I Have Space' programme to act as delivery and pickup points, and the 'Amazon Easy' programme to offer expanded selection to their walk-in customers.