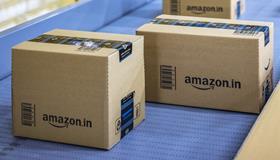 Amazon India launched a new suite of agronomy services to imporive fresh produce production and build a robust supply chain.
Services include a mobile app that can deliver reactive and proactive crop plans to address queries from growers anytime, anywhere and machine learning-based algorithms to detect defects in fresh produce.
Sameer Khetarpal, director, grocery, food and health of Amazon India, said state-of-the-art technology will also be used to build robust supply chain infrastructure.
"We are excited by the role we can play in empowering Indian farmers and the agricultural community through pioneering technology that improves farm yield and quality of fruits and vegetables," said Khetarpal.
"This is a holistic program that enables farmers to use scientific crop planning based on soil and weather conditions, and provides inputs on crop and disease management. We are humbled with the acceptance from farmers to adapt and learn tech-led simplified solutions that help them in fast decision making and see improved results from the farm.
"We plan to continuously improve efficiency of the program and create new modules that will benefit Indian farmers and provide freshest produce to the customers"
As part of the agronomy service launch, Amazon has developed an ecosystem using a combination of agronomist-driven field interventions, and a farm management tool to track the impact of interventions.
Each enrolled grower partner is onboarded on the farm management tool and a team of qualified agronomists offer agri-tech expertise to registered partners for better farm yield and improved product quality.
The second Amazon agronomy service is an application-interface that uses machine learning and computer-vision based algorithms to simplify supply chain processes. It helps growers to identify defects (rotting, spots, cuts, mold) in fruits and vegetables, which in turn, reduces wastage improves the for end-consumers.
Amazon said it is also investing in robust, temperature-controlled supply chain infrastructure. Amazon associates use technology to inspect and monitor quality at multiple stages once the produce is sourced from farmers and dispatched to processing centres.
The fresh produce is then sorted, graded, and packed in different sizes at the processing centres and dispatched to Amazon Fresh fulfilment centres located closer to customers.
The fulfilment centres operatewith four separate temperature zones (ambient, tropical, chilled and frozen) to maintain the quality and freshness of produce.