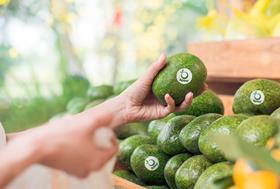 Apeel Sciences has announced US$250m in new financing, which will enable it to continue to address the problem of food waste with solutions such as its plant-derived coating.
The latest round of funding is led by GIC and combined previous investment from Oprah Winfrey in 2019 and others,the company's valuation now exceeds US$1bn.
Apeel Sciences plans to peruse its fight against food waste using its already successful coating. The 'peel', which is added to the surface of fruits and vegetables, can double or triple the shelf-life of many produce types without the need for refrigeration.
The company said in 2020, Apeel is on track to save 20m pieces of fruit from going to waste at retail stores, while also extending shelf-life in the home where food waste rates are three times as high.
In addition to supporting Apeel's presence in US and European supply chains, the funding is set to enable greater support of the company's initiatives in economies in Sub-Saharan Africa, Central and South America that are at greater risk of food security issues and food waste.
James Rogers, founder and chief executive of Apeel Sciences, said the company was proud to team-up with GIC to help create a better future with less waste.
"Food waste is an invisible tax imposed on everyone that participates in the food system. Eliminating global food waste can free up US$2.6 trillion annually, allowing us to make the food ecosystem better for growers, distributors, retailers, consumers and our planet," Rogers said.
"Together, we're putting time back on the industry's side to help deal with the food waste crisis and the challenges it poses to food businesses."
Additional participating investors in the company's recent capital raise include Viking Global Investors, Upfront Ventures, Tao Capital Partners and Rock Creek Group.
US celebrities Oprah Winfrey and Katy Perry have also joined the effort as minority, non-participatory investors to support the company's mission in making sustainable food systems a reality for all.
"I hate to see food wasted, when there are so many people in the world who are going without," said Winfrey. "Apeel can extend the life of fresh produce, which is critical to our food supply and our planet too."